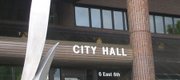 Subscribe to the email edition of Town Talk and we'll deliver you the latest city news and notes every weekday at noon.
News and notes from around town:
• This chill in the air of a morning has me needing to do something to get the blood pumping. Maybe gymnastics is just the thing.
I'm sure that is what you were thinking too, and there is news on the gymnastics front. Lawrence Gymnastics has completed a deal to purchase the building at 5150 Clinton Parkway, which is near the former Sport-2-Sport location and the current Jayhawk Tennis center.
The new 10,000 square-foot building will serve as a second location for Lawrence Gymnastics. The company will continue to operate out of its 4930 Legends Drive building as well. The Legends Drive building, will focus more on team and competition level gymnastics, plus boys recreational gymnastics.
The 5150 Clinton Parkway building will house preschool gymnastics classes, kids fitness classes, girls recreational gymnastics and dance, cheer and other similar programs.
Both locations also will have space available for birthday parties and such. Lawrence Gymnastics previously had been sharing some space at the building with a church that was located there. But recently, the owners of the gymnastics academy swung a deal to purchase the building, which was built years ago to accommodate a similar type of business, Dance City.
Carol McGarity, manager for Lawrence Gymnastics, said the business basically got the equivalent of a bunch of free advertising this summer.
"The Olympics have helped business a whole lot," McGarity said. "People realize that even if you don't go competitive, it is a good sport to help with coordination and flexibility. It gives you a lot of skills that can help in other sports."
As I sit here this morning shivering on my couch, perhaps I'll try a head stand to get the blood warmed up.
• If you are like me (if so you just found out a head stand isn't as easy as it used to be), this cold weather has caused your spouse to begin to think about maybe, just perhaps, turning on the furnace.
I'm hopeful that the frost on my iPhone screen this morning helped make the case to turn up the thermostat a bit. (Some people have to leave time of a morning to scrape their windshields. I have to leave time to scrape the computer monitor.)
Well, know this, fellow Kansans, when you do finally turn on the furnace, you probably will be wasting a lot of money. A new report by an energy-efficiency advocacy group ranks Kansas as the 45th worst state in the country when it comes to energy efficiency.
The American Council for an Energy-Efficient Economy seemed rather unimpressed with the state's energy efficiency efforts. The report notes that Kansas does not have any laws or regulatory rules that mandate energy-efficiency programs, although some utilities do offer some voluntary programs.
States that ranked below Kansas were Alaska, South Dakota, Wyoming, West Virginia, North Dakota and Mississippi. (The District of Columbia also was ranked, bringing the total to 51, in case you were wondering about the math.) Massachusetts, for the second year in a row, ranked No. 1. Among Midwestern states, Iowa ranked highest at No. 11.
Kansas, though, surely will rise in the rankings. My wife is doing her part, although I currently have on four televisions, three computers, 18 light bulbs and a microwave in an effort to stave off hypothermia.
• Some of you, though, may remember a Kansan who would have ranked pretty high in an efficiency study.
In the 1960s, Leo Beuerman was a fixture in downtown Lawrence. Born in 1902 with a host of physical disabilities, Beuerman stood 3 feet 3 inches tall, and before he was 30 he had lost all his hearing.
But for more than a decade, Beuerman showed up to work each day to sell pencils and other items out of a cart he made himself.
Beuerman was the subject of an Academy Award nominated documentary in 1969, and one of the most memorable scenes about Beuerman is how he arrived to work each day.
He drove a specially modified tractor to town, and the way in which he moved his small frame off the tractor was quite a sight to see. Click here to see a clip from the movie. Beuerman used a system of chains and pulleys that he and a nephew built that lowered him and his special cart to the ground.
Beuerman died in 1974, but he is still remembered by longer-term members of the community
Well, there is an effort under way to make sure his memory is elevated just a bit. Currently there is a sidewalk plaque honoring Beuerman that is just outside Teller's Restaurant, which used to be the First National Bank Building, a place he often would sell his pencils.
But the plaque is frequently covered up by chairs or tables related to Teller's sidewalk dining operations. Lawrence resident Frank Janzen has sent a request to city officials asking that the plaque be moved to the side of a concrete planter near the Teller's location.
The planter, which is near the corner of Eighth and Mass., is more visible to pedestrians, and also is near the spot where Beuerman parked his tractor, Janzen writes.
Janzen said representatives from Teller's approve of the move, and city officials with Public Works and Parks and Recreation have indicated moving the plaque is feasible. Plus, Janzen said four nieces and nephews of Beuerman's were in town recently and thought moving the plaque was a good idea.
The request currently is working its way through the approval process at the Lawrence-Douglas County Planning Department.
Copyright 2018 The Lawrence Journal-World. All rights reserved. This material may not be published, broadcast, rewritten or redistributed. We strive to uphold our values for every story published.