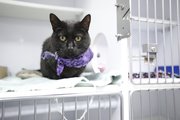 In the long rows of dog kennels at the Lawrence Humane Society, T-Bone isn't especially eye-catching.
He's not very large or very small — he's medium-sized. His coat isn't fluffy or spotted — it's short and all black. He's not tough-looking — he's a Labrador-chow chow mix whose tail can't seem to decide if it wants to be straight or curly.
But T-Bone's biggest problem is one that, for many dogs, seems to get worse the longer they stay there.
He's not very good at puppy dog eyes.
Of all the dogs at the shelter, as of last week, T-Bone has been there the longest. He and the longest resident cat, Eboni, are cases in point for some of the benefits of a low-kill shelter but also some of the challenges when it comes to adoptions.
While the average length of stay for dogs is 20 days, 3-year-old T-Bone has been at the shelter since May 25, when he was surrendered by a guardian. Eboni, a 3-year-old domesticated stray, has been there since April 16.
Lawrence Humane Society director Dori Villalon explains the good news.
The shelter only euthanizes pets that have behavioral or medical problems that make them unadoptable, so T-Bone is safe from that.
"As long as we can keep him physically and mentally sound, he can stay here until he gets adopted," Villalon says.
The bad news is that the longer animals stay there, the less adoptable some become.
It's not that they develop aggression or behavior problems. It's that, even with a constant flow of volunteers, they seem to forget how to be a companion for a particular person.
And shelter employees say that's one of the most common things adoptive humans seem to look for in a pet — basically, they want the one that comes up to them and makes puppy dog eyes.
"It's all about that connection," Villalon says.
Blending in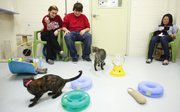 With T-Bone on a leash in the shelter's exercise area, animal care associate Alyssa Cusick describes him as full of energy — "He loves to run," she says — yet calm and well-behaved. He's good with other dogs and can even sit and shake.
Back in his cage, T-Bone runs back and forth, seemingly having even more fun barking with the other dogs in his too-familiar surroundings.
"He shouldn't want to come back in here," Villalon says. "He's a dog that can quickly become at risk if his behavior escalates."
While foster care is usually reserved for pets that need special medical or dietary attention, Villalon says it can be an emergency option for dogs like T-Bone who are at risk of developing depression or neurotic behavior (such as pacing their kennels or chewing).
When removed from her cage, Eboni calmly explores her surroundings. She is quick to purr when held and revels in having her tummy scratched.
But being all black, Eboni is not exactly a visual standout among fellow cats — even with the little Halloween bandanna employees put around her neck to help her look more colorful.
"I think most people are kind of programmed to look at animals of different colors," Villalon says. "People are naturally drawn to patterns."
The right fit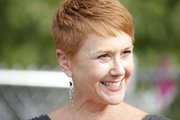 Not surprisingly, kittens and puppies usually get adopted quickly.
However, Villalon says, older animals aren't necessarily unpopular. Many times, their calm demeanor fits exactly what a potential owner is looking for.
A full-time veterinarian — which the shelter added to its staff in July — has been able to improve the health level of all pets but also clean teeth and remove lumps and bumps to help make some of those older animals more attractive, Villalon says.
The vet also has been vaccinating dogs against rabies, which enabled the shelter to begin its Marathon Mutts volunteer program. Certified volunteers can now take vaccinated dogs off the shelter property and out into the community, where they are around more people and may even get noticed.
Once in a while, Villalon says, people actually request the animal that's been there the longest.
Emily Snow of Lawrence just adopted a calico cat named Stoli, who had been living at the shelter more than six months. Snow's parents, who live outside the city limits, needed a few barn cats, so Snow picked out Stoli and two other longtime residents for them.
Snow, a former shelter employee, has seen animals get "cage sour."
Stoli, for example, wasn't inviting people to pet her, Snow says. "She'd been there for months and months and months. She was just getting so down that she was no longer acting adoptable."
But she's also seen animals snap out of it when they find a home, and that was the case with Stoli.
"It was just a matter of two to three days that she was rubbing up on legs and being a happy, healthy cat again," Snow says. "Because they're out of their cage, their personality comes flying back."
A special connection
Sometimes making the connection it takes to get adopted just means waiting for the right person — and what makes that person the one can't always be explained by us humans.
Beau, a brindle American pit bull terrier mix, had been at the shelter close to a year.
He was adopted once but returned. Shelter employees noticed he began to act depressed and detached.
He was a familiar fixture in the Humane Society's Adopt-A-Pet weekly ad in the Journal-World, but even when potential adopters took him out to play, he ran around the field by himself, ignoring them, client care associate Ramona Kemberling says.
About a month ago, his soon-to-be owner arrived.
"He actually came right to her out in the field," Kemberling says. "It was like she was meant to take him home."
Kemberling tears up when she talks about Beau finally finding his forever home.
"We're very invested emotionally in these guys," she says.
Copyright 2018 The Lawrence Journal-World. All rights reserved. This material may not be published, broadcast, rewritten or redistributed. We strive to uphold our values for every story published.