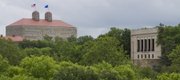 Subscribe to the email edition of Heard on the Hill and we'll deliver you the latest KU news and notes every weekday at noon.
Your daily dose of news, notes and links from around Kansas University.
• Today a new human resources/payroll system goes into effect for KU employees.
KU HR director Ola Faucher says the system will largely digitize things like timekeeping, requests for time off, tax forms, etc. David Day, a spokesman for KU information technology, tells me it was quite the endeavor to convert KU's myriad different departments and offices over to the new system.
Hourly employees will now record all their hours electronically — meaning, I presume, that front-desk workers at the residence halls will no longer need to punch physical timecards with a machine as I once did.
More information about the new system is available on a webpage the HR office has set up, and Faucher said an announcement would be going out to employees today.
I may check in later this week or next about how the conversion to the new system is going, so feel free to share with me your experience with it. (My email address, in case you get bored and click away before you get to the bottom of this blog entry, is merickson@ljworld.com.)
• Al Jazeera English published quite the lengthy feature on KU and Lawrence on Saturday, apparently as part of a reporter's "Red State Road Trip."
The story winds through a number of topics, including efforts by KU's Muslim Student Association to increase awareness of Islam on campus following the notoriety gained by the anti-Islam film associated with last month's U.S. Consulate attack in Libya; a section featuring KU professor Donald Haider-Markel, chairman of the political science department, and another featuring a "goateed activist" at a vegetarian potluck; and some analysis of the religious and political climate in Lawrence that won't be particularly earth-shattering to folks who live here.
All told, it's worth a read over your lunch hour if you're interested in an international perspective on Lawrence and KU.
• Seven KU design students had posters selected for a "Get Out the Vote" exhibition in New York City.
Fifty posters in all were picked for the show, at the American Institute for Graphic Arts National Design Center, out of more than 200 entries.
The students whose work was selected: Jing Jian, Alyssa Bastein, Eric Norton, Erin Zingré, Jon Duong, Kelsey Allen and Emily Mullett. Jian and Bastein had two posters selected each.
The exhibition is up until Nov. 30, but if you won't be in New York by then you can check them out online here.
Each of them is pretty neat, though I must say my favorite is Duong's poster, which contains the slogan "VOTE FOR ALL THE THINGS."
• Heard on the Hill urges you to TELL US ABOUT ALL THE THINGS that might make for good blog fodder. Send those tips to merickson@ljworld.com.
Copyright 2018 The Lawrence Journal-World. All rights reserved. This material may not be published, broadcast, rewritten or redistributed. We strive to uphold our values for every story published.