Pumpkins are everywhere in October, and that can include your dinner table with these two inventive pumpkin recipes.
Delicious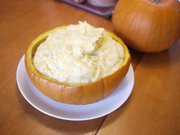 Let me be frank: Even though I'm the one who suggested we do pumpkin for Delicious/Nutritious this month, I am not a big fan.
I am not into pumpkin bread, pumpkin pie, pumpkin in my coffee, or really any of the other incarnations of the ubiquitous October gourd that are floating around all of my usual recipe haunts.
So why in the world would I choose pumpkin, if I don't even like it? Let's just say I like a challenge. I wanted to see if I could make a pumpkin dish that even I would like.
I generally want to stay away from traditional pumpkin pie spices, especially when they're all together. Separately, nutmeg, clove and cinnamon are all excellent spices. Together, they equal a fall food nightmare.
So, how to use pumpkin in a dish without overloading the senses with that triumvirate of pumpkin spices? I had to think about things I really love, and I kept it simple.
I decided on pumpkin mashed potatoes. You get the creamy, dreamy love of a mashed potato (who doesn't love them?) and the added bonus of richness of flavor from the pumpkin, not to mention added nutritional value — because much as we love the blessed potato around this house, let's face it: It doesn't provide much in the nutrient category.
Pumpkin Mashed Potatoes
1 pie pumpkin
10 yukon gold potatoes
1 stick of butter
1/2 cup sour cream
1/4 teaspoon garlic powder
1/2 teaspoon nutmeg (I like to grind mine fresh — no comparison)
salt and pepper to taste
Put a stock pot of water on to boil. Meanwhile, cut your pie pumpkin in half and clean out the seeds and "guts". (I let my kid do this part.) Pop it in the microwave, 4 minutes per pound. Mine took about 17 minutes to get fully cooked. You want to make sure it's cooked and really soft or you will get lumpy taters, and nobody wants that.
Peel your potatoes, cut them into quarters, and boil until they're soft.
When the pumpkin is cool enough to touch, scoop the soft flesh out of the bottom half, leaving the shell intact — you're going to want it later. You can mutilate the top half all you want.
Put the cooked potatoes and pumpkin in a mixing bowl with the rest of the ingredients, and blend with either a hand masher or a mixer. I like these to be smooth and creamy — whip them into a lightly orange dream. Serve them in the bottom of the pumpkin to impress your guests.
They're divine. Seriously. This pumpkin-hater even loved them.
The pumpkin flavor is evident but not overpowering. The pumpkin adds richness and texture to the taters, but doesn't bowl you over with that "Oh! Another pumpkin dish!" sort of knock-out punch.
Nutritious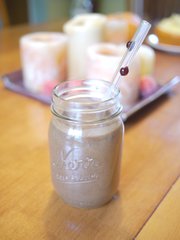 OK, a confession: I have some VERY unhealthy pumpkin recipes in my arsenal. Goodies that are absolutely as delicious as they are perfectly horrible for you.
An example: I have a pumpkin bread recipe that includes a cup of oil, a cup of full-fat coconut milk, shredded coconut AND chocolate chips. It is TO DIE FOR. It's also good that I only make it once a year, because it would probably kill me if I ate it all the time.
I also have recipes for cookies, brownies and cupcakes, that, while not classified on the same gut-bombing level as the aforementioned pumpkin bread, aren't exactly good for you.
In fact, when tasked this month with making something using pumpkin, I really wondered if I could make something healthy with pumpkin.
I mean, pumpkin is actually healthy in and of itself. Half a cup of cooked, pureed pumpkin has just 40 calories to go with five grams of fiber and 300 percent of your daily vitamin A. Therefore, pumpkin is actually good for you (it is a winter squash, after all), but the way I usually make it (and probably you, too) isn't exactly healthy. I mean, what goes better than pumpkin and chocolate? NOTHING.
But I think I figured out a way to enjoy the pumpkin-chocolate combination in somewhat of a healthy manner. Plus, it's super easy and makes a good breakfast, snack or dessert.
Inspired by those pumpkin spice lattes that everyone sips starting Sept. 1, I decided to make a spicy pumpkin and chocolate smoothie. There's no coffee involved (though you could probably experiment with adding a bit of cold press to this recipe), but it's creamy, filling and delicious.
Oh, and easy. Much easier than making gut-bomb pumpkin bread, in fact.
Pumpkin Spice Chocolate Smoothie
1/2 cup pumpkin puree
1 cup almond milk (regular, not unsweetened; vanilla might work)
1 banana
2 tablespoons cocoa powder
1 medjool date (soaked for 15 minute if hard)
1/2 teaspoon pumpkin pie spice
Splash vanilla
Blend all ingredients in a blender until smooth and creamy. Add a bit more almond milk if it's too thick for your blender to turn properly. Serves 1-2.
Copyright 2018 The Lawrence Journal-World. All rights reserved. This material may not be published, broadcast, rewritten or redistributed. We strive to uphold our values for every story published.