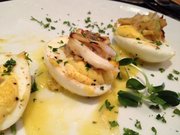 If you like crab cakes and deviled eggs, this is the best of both worlds — plus béarnaise sauce. Listed on the small-plates menu, warm deviled eggs come topped with a pinch of sweet lump crab. There's just enough creamy béarnaise to get some on your spoon with every bite.
Where to get it: Mariscos, 4821 W. Sixth St.
What you'll pay: $9 plus tax
Try it with: More small plates or a salad to make it a meal. Or share with friends for a dinner appetizer.
Also on the menu: Lots of seafood dishes (after all, the place is called Mariscos), plus sandwiches, entrees and sides such as prime rib sliders, pork mac 'n' cheese and root beer glazed sweet potatoes. Mariscos also has special gluten-free and pesco-vegetarian menus.
Restaurant website: www.mariscosonline.com
Copyright 2018 The Lawrence Journal-World. All rights reserved. This material may not be published, broadcast, rewritten or redistributed. We strive to uphold our values for every story published.