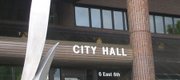 Subscribe to the email edition of Town Talk and we'll deliver you the latest city news and notes every weekday at noon.
News and notes from around town:
• The recent presidential debate has drawn attention to a couple of threats facing America: a large yellow bird on the loose and the excessive borrowing from the Chinese that allows this bird to roam free.
I have a particular interest in the second part (more on that another day), but I am amazed that another Chinese threat to America isn't receiving tons of headlines: Chinese lanterns.
Surely you are aware of Chinese lanterns. They basically are a miniature, paper version of a hot air balloon, fueled by an open flame that burns inside the paper sack-like contraption.
Or, another way to describe them, is that they are the Chinese Air Force. The U.S. invests in Stealth Bombers, and the Chinese invest in paper lanterns. At least that is what I was convinced of this July 4 as several of them flew over my house, leaving me to worry about whether one would land in my extremely dry weed patch formerly known as a yard.
Evidently, city of Lawrence leaders have become wise to this Chinese plot. Well, maybe they haven't adopted that exact position, but they are looking to outlaw Chinese lanterns. (They actually call them aerial luminaries, but they commonly are marketed as Chinese lanterns at fireworks stands.)
Fire Chief Mark Bradford has expressed concern that the lanterns are a fire hazard. He notes that the flames on the lanterns can easily burn for 15 minutes and that in dry, windy conditions (also known as summer in Kansas) they create a real fire hazard.
So city commissioners at their Tuesday meeting will be asked to pass an ordinance banning aerial luminaries in the city. Lawrence already has a ban on most fireworks, but aerial luminaries aren't considered a firework.
According to a city memo, Wichita, Derby, McPherson, Emporia and Kansas City already have bans on the aerial luminaries.
Commissioners meet at 6:35 p.m. on Tuesday at City Hall.
• You know what a flaming, flying luminary really could interfere with? Your plans to drink a fresh glass of milk underneath your gazebo that sits atop your roof.
If you are confused, perhaps you haven't driven through the intersection of 19th and Mass. lately. There is a gazebo atop the roof of the two-story commercial building that houses the Iwig Dairy store.
The gazebo had generated some questions from readers, so I contacted the folks at Iwig. But no, the gazebo doesn't have anything to do with the Iwig store. Instead, there's an apartment above the store and the rooftop gazebo belongs to the apartment's residents.
No, I don't know if rooftop gazebos are just something you can put up on a multistory building or not. A city official said they were looking into it.
But while we are here, it seemed like a good time to check in on how the unique Iwig Dairy store is doing. The store, which opened in February, may be looking to make some changes, it seems.
Dairy owner Tim Iwig said he has heard concerns about the 19th and Mass. location and, in particular, how difficult it is for motorists to get in and out of the spot.
"People do complain about the location in Lawrence," Iwig said. "But tell me a better location, and I'll sure look at it. I'm all ears, because we're open to a move."
Iwig, though, said small affordable retail space on either Sixth or 23rd streets can be difficult to find, and he previously has expressed concerns about how past attempts at markets in downtown have fared.
The dairy — which milks its herd in nearby Tecumseh — is going through a bit of a transition period. Since the Iwig store opened in February, the company has pulled all of its milk out of Lawrence grocery stores, except for The Merc.
Iwig said he had hoped to keep the milk in the local Hy-Vee stores, but had to drop the stores during the heat of the summer when the production of his 60-head of milking cows slowed down significantly.
Iwig confirmed that the Lawrence retail store will play an awful big part in determining whether the more than 100-year-old family dairy will remain in business for the long haul.
The dairy has a retail store in Topeka that is doing well, but Iwig said he has been surprised that the Lawrence location has not taken off better, given the city's reputation as a place that loves local food.
The Lawrence store is trying to create a niche as a local foods store, not just a place to buy milk. In addition to the Iwig milk and ice cream, the store also sells Kansas-produced eggs, jams, jellies, salsas, meat and other items.
The company had hoped its location near the new Dillons at 17th and Mass. would be a benefit. The thought was people would do the bulk of their shopping at Dillons and then stop at the Iwig store for some local items. But an employee of the Iwig store said sales had dropped significantly since Dillons opened.
"I don't want to be negative here, because we're happy to be in retail in Lawrence," Iwig said. "I just want more people to come out and see us."
• Lawrence gasoline station owner Scott Zaremba is getting more attention than either a rooftop gazebo or a flaming balloon these days.
Zaremba this week was quoted in an article in The Wall Street Journal about the growing debate over E-15 ethanol. As we previously reported, the Zarco 66 station at 1500 E. 23rd St. in July became the first station in the country to begin selling the new E15 blend of gasoline.
The gasoline has 15 percent ethanol, which is more than the 10 percent ethanol levels found in most gasoline. The EPA in June approved the E15 ethanol for use in all light duty-vehicles manufactured since 2001.
But as The Wall Street Journal article emphasizes, there is quite a disagreement in the gasoline industry about whether convenience stores should start selling the E15 product.
Even though the EPA has approved the fuel for use in vehicles made in 2001 or later, the auto manufacturers have not yet said that is a good idea. Ford and General Motors, according to the article, have said E15 is safe for their 2013 fleets, but they haven't recommended it for earlier models.
The EPA, according to the article, has conceded E15 "may be more corrosive than other fuels and emits a hotter exhaust, which could cause leaks or increased wear in vehicles that weren't designed to handle it."
But Zaremba told me that E15 now makes up 20 percent of his stations' fuel sales, and he hasn't had a customer report a problem yet.
He said there are two factors in play about why people are raising a concern over a vehicle performance. One is the auto manufacturers are trying to give themselves another piece of legal cover for the multitude of lawsuits they face every day related to the performance of their vehicles.
But the second factor, Zaremba believes, is Big Oil. The big oil companies don't want to see more ethanol used, he said, because it would mean less use of their product.
"We're talking about very big business here," Zaremba said. "If the oil companies could delay this from taking off for even just another year, think how much that would mean in terms of dollars to them."
Zaremba is now selling the E15 in eight stations, including all the Zarco stations in Lawrence, Ottawa and Olathe. He said the fact the feedstock for ethanol — generally corn — is produced locally is a big selling point for him.
"If we can have a transportation economy that is produced locally, I don't know if there is anything better that we can do than that," Zaremba said.
The Wall Street Journal article, though, reports the effort is moving pretty slowly. Most of the major convenience store operators the Journal chatted with don't have plans to add the E15 fuel.
Zaremba, though, said he think attitudes eventually will change.
"Everybody thought the world was going to end when E10 fuel was introduced, and it didn't," Zaremba said.
• If ethanol isn't your preferred flavor of alternative fuel, maybe electric powered cars are.
The city of Lawrence is set to apply for a grant to install a new electric car charging station in one of the city parking garages downtown.
The city will have to pick up the $3,000 in installation costs, but a grant program is offering to give the city a charging station for free.
If the city wins the grant, the device will be installed either in the Riverfront garage near City Hall, the Ninth and New Hampshire Parking Garage or the new parking garage that will be built next to the Public Library.
If approved, the charging station will be installed by the end of 2013.
Copyright 2018 The Lawrence Journal-World. All rights reserved. This material may not be published, broadcast, rewritten or redistributed. We strive to uphold our values for every story published.