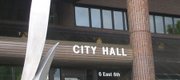 Subscribe to the email edition of Town Talk and we'll deliver you the latest city news and notes every weekday at noon.
News and notes from around town:
• There's some new reading material at the University Book Shop on 23rd Street: A for lease or sale sign.
A manager at the store, 1116 W. 23rd, insisted the sign didn't mean that the location was set to close, but it makes you wonder. The University Book Shop doesn't own the building, and my understanding is the lease was set to expire this summer. According to county records, the building is owned by Sanders LP, which appears to be a Lawrence group headed by Charles Sanders.
The University Book Shop is owned by Nebraska Book Company, which has been in the news over the last couple of years as it has gone through the bankruptcy process. The company emerged from bankruptcy in July, and selling off several of its bookstores certainly was part of the strategy. The company sold 56 of its approximately 300 off-campus bookstores, according to a recent article from Businessweek.
It is conceivable that Nebraska Book Company may want to change its strategy some in Lawrence. The company in recent years pulled off a deal to purchase the Jayhawk Bookstore at the edge of campus from the store's longtime owners, the Muggy family. So perhaps the company doesn't need two locations in Lawrence, but we'll see.
In fact, it will be interesting to watch that industry all the way around. A lot of people have opined about the wisdom of the city building a new $19 million library in an age where electronic books are becoming more popular, but if there is an industry where electronic books would seem to be a big threat, I would think it would be the textbook industry. By my count, there are at least four textbook retailers in Lawrence.
A spokeswoman with Nebraska Book Company didn't return a call seeking comment.
• What isn't threatened by technology, I don't believe, is the hamburger. (Unless you consider ground turkey technology. It is not. It is an unholy disgrace to carnivores the world over.) But as we have previously reported, Lawrence's Local Burger restaurant has closed its doors.
But there is a brief update to be had on that restaurant. The company recently has posted on its Web site — localburger.com — that the restaurant has "temporarily" closed its Lawrence location. It also has created a spot on the Web site for people to sign up for e-mail updates on Local Burger's new location.
In case you are confused (the mere mention of ground turkey discombobulates me for at least an hour), Local Burger's only location was its Lawrence location, which was at 714 Vt.
But clearly the dream of the Local Burger concept — which used local meat and produce for its burgers — is still alive with owner and founder Hilary Brown. I talked with Brown recently and she said she couldn't make any guarantees that Local Burger would re-open in Lawrence.
"What I can tell you is that Local Burger isn't gone by any means," Brown said. "We're in the midst of discussions about developing a new growth strategy."
I don't really know what is up, so take this for whatever you think it is worth. But I think there are people who are very much interested in the Local Burger concept, so I would watch for either new ownership or at least some new partners to come on board. But I'm also not sure that Lawrence will be the place that Local Burger re-emerges. I would keep an eye on the Kansas City market.
• My recent vacation has put me behind on relaying weekly land transfers to you. Here's a couple of week's worth of property sales and transfers as recorded by the Douglas County Register of Deeds office.
In terms of commercial sales of note, we've already reported on the largest one: Compton Rentals has purchased the former Wyldewood Cellars building at 835 Mass. The unique retailer Ten Thousand Villages is set to move into that spot.
Also of note is that the Kansas City-based financial services and technology firm DST Systems has sold the building and vacant land that houses its Lawrence customer service center. The property is at 2000 Bluffs Drive, which is the former Sallie Mae service center just north of Sixth and Iowa streets.
DST Realty of Lawrence Inc. sold the property to IFDS Realty LLC. It is always tough to know what to make of these sales. The new ownership group for the property still includes some members of the DST management team, but it also includes what appears to be three members of the management team of Boston's State Street Corp., which is a large financial services firm.
DST Systems and State Street operate a joint venture called Boston Financial Data Services, which labels itself as "one of the industry's premier outsourcing providers servicing the mutual fund and employer retirement plans markets."
According to some stuff I've seen on the Web, it looks like DST's Lawrence location now is branded as a Boston Financial Data Services location. I'm not sure what that may mean in terms of any changes in employee totals or such at the location, but it is worth keeping an eye on.
Also of note is the Dollar General store property in North Lawrence has sold. Lawrence DKP II, LLC has sold the real estate to Realty Income Properties 22 LLC out of Escondido, Calif. I would guess that is just some sort of technical transfer related to corporate stuff with Dollar General, since that store is still relatively new.
Anyway, click here to see the full list of land transfers.
I am, in the meantime, going to go read an electronic textbook on the evils of ground turkey.
Copyright 2018 The Lawrence Journal-World. All rights reserved. This material may not be published, broadcast, rewritten or redistributed. We strive to uphold our values for every story published.