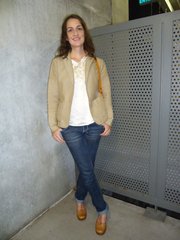 Age: 30
Relationship status: Single
Hometown: Lawrence
Time in Lawrence: I moved back nine months ago
Occupation: Online vintage clothing seller
Dream job: Doin' it.
What were you doing when scouted? Checking out the local art scene
Describe your style: I dress according to my mood. Sometimes it's vintage; sometimes it's classic.
Fashion trends you love: Peter Pan collar
Fashion trends you hate: I don't like when everyone jumps on board with a style without thinking. I like individual style.
Fashion influences: Street style
What would you like to see more of in Lawrence? I like it! The style is good.
Less of? Potholes
Tattoos or piercings? No
Who do people say you look like? Nobody
Tell us a secret … I have a cookie in my pocket.
Copyright 2018 The Lawrence Journal-World. All rights reserved. This material may not be published, broadcast, rewritten or redistributed. We strive to uphold our values for every story published.