In the battle over the Big Bird vote, Democratic congressional candidate Tobias Schlingensipen said Thursday he would protect federal funding of Sesame Street with his life, but U.S. Rep. Lynn Jenkins, R-Topeka, said she would pull the plug.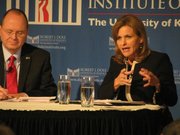 2nd District forum: Rep. Lynn Jenkins and Tobias Schlingensiepen
The two faced off during a debate at the Dole Institute of Politics and jousted over numerous issues, such as campaign finance and health care.
But the question of government funding for Public Broadcasting and Sesame Street — which came up during the presidential debate on Wednesday — was repeated.
Schlingensiepen said he grew up watching Channel 11 in Topeka and praised PBS for its news, educational and cultural programming.
He said Sesame Street had enriched his life. "I for one would defend it with my life," he said.
Jenkins disagreed. "I am not going to fire Big Bird," she said, but added PBS should not be funded by the government. "Nowhere in this document (the U.S. Constitution) do I see that that is a role of the federal government," she said.
Jenkins said the federal deficit is too high for taxes to be going to PBS. "We could pass the hat and probably keep them open here locally this month," she said.
In other areas, Schlingensiepen continued to hammer Jenkins for taking campaign donations from huge corporate interests, such as Goldman Sachs and Citigroup. He said Jenkins supported their positions to the detriment of every day Kansans.
"My opponent has turned against the people of the 2nd District," Schlingensiepen said.
Schlingensiepen noted her votes against the establishment of a consumer protection agency, disclosing Wall Street bonuses and reining in predatory lenders.
But Jenkins said she has voted with the constituents of the district. She voted against the Dodd-Frank Wall Street Reform and Consumer Protection Act, saying regulations in the law hurt local credit unions.
And she has voted to repeal Obamacare, which she said will lead to higher taxes and insurance premiums.
Schlingensiepen said he supported legislation that would require organizations pouring hundreds of millions of dollars into campaign ads to disclose their top donors and how much they spend. He also said he supports limits on how much candidates could spend in congressional races.
"It is extremely important that we make sure there is transparency," he said.
Jenkins said Schlingensiepen was implying Kansans aren't smart enough to figure out who is behind campaign ads. "We live in America. This is an issue of free speech," she said.
The debate was sponsored by the local Voter Education Coalition, a non-partisan organization founded to promote civil dialogue and voter participation.
Copyright 2018 The Lawrence Journal-World. All rights reserved. This material may not be published, broadcast, rewritten or redistributed. We strive to uphold our values for every story published.