Eudora — Veritas Christian's volleyball team kept its successful season rolling Tuesday night by sweeping Bishop Seabury Academy, 25-22, 25-18, and Kansas City East Home School, 27-25, 25-23.
Photo Gallery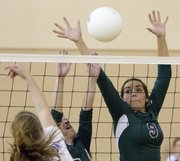 Veritas, Seabury volleyball at Veritas triangular
The Eagles' victories at their home triangular improved their record to 18-3, and they did the bulk of their damage with 23 aces on the night. Ali Dover served seven aces, Teri Huslig contributed four and Abi Bartlow, Madi Bennett and Lacey Billings each chipped in three.
Said coach Mike Bartlow: "It's something we emphasized for the girls in practice, not only the difficulty of the serve but movement and placement. It helps momentum to get aces and pumps the team up."
Huslig's 17 kills led the Eagles, while Billings had a team-best 21 assists.
Though Seabury dropped both of its matches at the tri, losing 25-20, 25-22, to K.C. East, coach Chrissy Leuty said her team played well after dealing with injuries and illnesses this season.
Taylor Hodge recorded 19 digs and 10 aces for the Seahawks (12-9). Sarah McDermott finished with 13 kills, 19 digs and eight assists. Courney Hoag had nine kills, two blocks and nine digs. Ellen Almanza finished with seven aces and 11 digs.
Seabury plays Saturday at the Riverside Tournament. Veritas is idle until Monday, when the Eagles travel to Topeka for a dual against Cair Paravel.
Copyright 2018 The Lawrence Journal-World. All rights reserved. This material may not be published, broadcast, rewritten or redistributed. We strive to uphold our values for every story published.