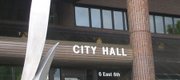 Subscribe to the email edition of Town Talk and we'll deliver you the latest city news and notes every weekday at noon.
News and notes from around town:
• With this being the political season, you just sort of expect the subjects of news stories to be full of air. But here's a twist on that: There's news about a Lawrence business that specializes in inflatable fun houses and such.
A little more than a year ago, we reported on Jump 4 Joy Kansas, a children's play center full of inflatable play structures that rented space from Steve's Place, the reception hall at 31st and Louisiana.
Well, the folks at Jump 4 Joy have discovered what has long been known in the Lawhorn house: Parents need the option of wearing their kids out on a bouncy house at any given moment.
So, Jump 4 Joy has signed a deal for its own space, which will allow the business to have greatly expanded hours. The company has opened at 1035 E. 23rd St., which is near the Sonic restaurant just east of Haskell Avenue. The building sits off of 23rd Street a bit, and I believe it used to house a business that manufactured air boats. (Now you are talking into Daddy's good ear.) I don't have any word on where that business went.
Jump 4 Joy will continue to offer four inflatables for kids to play on: a 14-foot slide, a 30-foot obstacle course, a sports-themed inflatable with a basketball goal and pop ups, and an extra large bouncy house.
"We're pretty excited about it," said Tiffany Ellis, who owns the business with her husband, Doug. "We just felt like we couldn't grow the business any more where we were at. The biggest thing for us will be having party days available on Saturdays."
Previously, the business had no Saturday hours because, oddly, brides did not want to share the reception space at Steve's with bouncy houses. (I'm pretty sure grooms wouldn't mind.) Now, the business hopes Saturdays become a big day for birthday parties, and the company also plans to rent the facility out for overnight parties for youth groups.
The business also will have open play times pretty much every day of the week. Rates start at $5 for a one-hour session, although discounts are available if you purchase multiple sessions in a day. Hours for the open play times vary depending on the day of the week, so it is best to check the company's website: jump4joyks.com.
• It is not a bouncy house, but I'm getting word a proposal is coming forward to build a special type of housing in eastern Lawrence.
A major affordable housing project by the Lawrence-Douglas County Housing Authority may be coming to a site near the 23rd and O'Connell intersection.
A neighborhood leader has forwarded me a letter from the Housing Authority announcing a public meeting at 4 p.m. on Thursday at the Housing Authority offices at 1600 Haskell to discuss plans for a new affordable housing community.
According to the letter, the proposed development would be at 2101 Exchange Court, which is just south and west of the 23rd and O'Connell intersection.
The proposal comes about after the Housing Authority put out a request for qualifications from private developers interested in partnering on an affordable housing project.
I don't yet know what private development group has submitted this plan, but large amounts of the property near 23rd and O'Connell are owned by groups led by Lawrence businessmen Doug Compton and Bill Newsome. Again, I don't know who has submitted the proposal. I tried to reach the Housing Authority yesterday, but was unable to contact director Shannon Oury. But rest assured, I'll be reaching out again today.
I have heard — but haven't confirmed — the development will be more than 100 units of affordable housing, so I suspect neighbors will have several questions. The Housing Authority operates several affordable housing sites and they all have slightly different feels. There's Edgewood Homes at 1600 Haskell Ave. that serves a variety of low income families, but there also are developments such as Babcock Place, near 17th and Mass., that cater to the elderly. No word yet on what type of development this one may be.
• I always hope for neighbors who read a lot because that tends to be a quiet activity. (Although the Harry Potter craze produced all types of wand-waving wizards running throughout the neighborhood, and let's not even get into the "Shades of Grey" aftermath.)
Anyway, all this is to say that there is news about the Lawrence Public Library's pending move in the former Borders bookstore space at Seventh and New Hampshire streets.
If you remember, city officials previously decided the library would relocate to the Borders building while construction work on a $19 million expansion of the library gets under way.
Well, library leaders tentatively have set a date of Dec. 17 as the day to open operations in the Borders building. The schedule is subject to change, but library and construction leaders are starting to set some dates for major things to happen.
It looks like a good portion of the library parking lot will be closed during the first week of December, and the library would begin making its move to the Borders space then. No word yet on whether there will be a few days when the library will be entirely closed.
The city's lease on the Borders space began on Oct. 1, so look for work to begin making some interior renovations to begin in the next few weeks.
What will be more noticeable, though, is what happens on the exterior. Project leaders have filed a site plan seeking permission for two 36-foot by 56-foot trailers to be parked on the east side of the former Borders building for the next 15 month or so.
The trailers will house the administrative offices of the library. The Borders space is significantly smaller than what the library has today, so library leaders have decided to use temporary trailers for offices in order to ensure as many books and computers can be housed in the Borders building as possible. The library is expected to be at Borders until April 2014.
Trailers aren't exactly what comes to mind when you think of downtown Lawrence and its historic districts, but between the library project and all the work slated for the Ninth and New Hampshire area, folks ought to be prepared for downtown Lawrence to look a little crazy for awhile.
Maybe now would be a good time for a bouncy house.
Copyright 2018 The Lawrence Journal-World. All rights reserved. This material may not be published, broadcast, rewritten or redistributed. We strive to uphold our values for every story published.