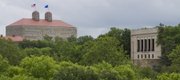 Subscribe to the email edition of Heard on the Hill and we'll deliver you the latest KU news and notes every weekday at noon.
Your daily dose of news, notes and links from around Kansas University.
• Tuesday's University Daily Kansan contained the heartwarming tale of a romance born from the UDK's Free For All, an anonymous call-in (or, nowadays, text-in) feature on the opinion page.
The Free For All, always one of the most-read sections of The Kansan during my time at KU, is a peek into the thoughts running through the heads of KU students. As I recall, it would occasionally veer into risqué territory, but Tuesday's edition is (mostly) clean and seems to be filled with a whole lot of "Harry Potter" references.
But according to that story, it can also be the source of love. After KU sophomore Roderick Bloom landed an entry in the Free For All seeking to find a "Single, Sober, Non-smoking" woman who shared his interest in Pokémon (boy, I did not know that particular cultural phenomenon was still on people's radar), he received a few responses in subsequent issues. But, because of the anonymity inherent in the Free For All, this did not do him much good. So he made a sign on which he reprinted his request, and he caught the eye of freshman Julie McCraw.
The rest, as they say, is history — very recent history, as this all apparently happened within the last two weeks or so.
• The next entry in the Hall Center for the Humanities' lecture series comes one week from today, Oct. 10, and the speaker will be Sarah Vowell, an author and public-radio personality.
She's a former contributing editor for the Public Radio International program "This American Life," she has six best-selling books on U.S. history and related topics, she's written for a variety of other outlets and she voiced Violet Parr in the 2004 Pixar movie "The Incredibles."
I've read one of Vowell's books, 2002's "The Partly Cloudy Patriot," which wove together tales from American history and stories from her personal life, and I recall it contained some interesting wit and wisdom. Her latest, "Unfamiliar Fishes," concerns Hawaii's history.
Her lecture is free and open to anyone, and it will be 7:30 p.m. Oct. 10 in the Kansas Union's Woodruff Auditorium.
• I'm not the biggest reality TV show guy, but even I have happened upon one of the cable programs that centers on the phenomenon of "hoarders," people who accumulate things in their homes to the point that the conditions are nearly unlivable.
It turns out some KU researchers have published some articles on the subject of hoarding, and are working on another. They've proposed a system to negotiate the ethics of helping out in instances of hoarding, which is complicated by the fact that sometimes the folks struggling with the problem do not want to seek help.
• We're not sure if Heard on the Hill has contributed to any love stories out there, but maybe, just maybe, you can make something happen if you keep sending your tips to merickson@ljworld.com.
Copyright 2018 The Lawrence Journal-World. All rights reserved. This material may not be published, broadcast, rewritten or redistributed. We strive to uphold our values for every story published.