Free State soccer coach Kelly Barah said he wasn't upset following his team's 2-0 home loss to Olathe South on Tuesday.
Photo Gallery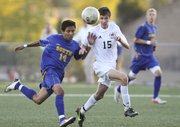 Free State soccer v. Olathe South
Images from Tuesday night's game between Free State and Olathe South.
"It was one of those that you can't explain to your team," Barah said, "because we thought we played well enough to deserve something better, a better result out of this one."
Though the Firebirds had a few scoring chances, they never could get a shot past a talented South back line.
That included senior Clay Stewart, the 109th-best player in his class, according to TopDrawerSoccer.com.
"He definitely made it difficult back there, that's for sure," Free State senior midfielder Evan Smith said. "He was winning a lot of balls in the air and making great passes to his forwards. He's big, strong, physical and fast, so it's pretty hard to get past that sometimes."
The Firebirds also had to try to get their shots around 6-foot-4 junior goaltender Nick Riggle.
"Once you see size like that in the goal ... not very often do you play against it," Barah said. "He was really good at coming off his line and clearing everything out. He made it a little tough for us."
Free State (6-5) fell behind early.
In the eighth minute, Olathe South's Dakota Storck dropped a pass back for Haakon Tabel, who launched it into the right side of the net to make it 1-0.
The Falcons (7-3-1) put in their final goal in the 20th minute, as Bryan Johnson knocked in a cross from Jack Carnes.
"That's why this is such a tough sport; once you start getting to higher levels, it's 2-0 and 1-0 games," Barah said. "It's always tough coming back from that."
On a couple of occasions, Free State appeared to be close to cutting the lead in half.
One instance was in the 26th minute, as junior Alex Trent passed to freshman Jordan Patrick, whose shot was knocked away by a diving Riggle.
Then, in the 68th minute, Smith sent a pass ahead to a full-speed Kyle Freese.
"He was calling for it. I just put it in there the best I could," Smith said. "I was hoping he would put it in."
Once again, though, Riggle denied a shot with a diving save.
"We just couldn't capitalize on the opportunities we had," Freese said. "A couple mistakes, but we played really well as a team."
Copyright 2017 The Lawrence Journal-World. All rights reserved. This material may not be published, broadcast, rewritten or redistributed. We strive to uphold our values for every story published.