Topeka — A Kansas judge has indefinitely postponed a court hearing on an attorney's legal challenge to President Barack Obama's place on the state's Nov. 6 general election ballot.
The Topeka Capital-Journal reports that Shawnee County District Judge Larry Hendricks will decide first whether California attorney and dentist Orly Taitz has the standing to file a lawsuit in Kansas.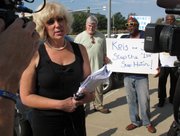 Taitz promotes the discredited idea that Obama is not eligible to serve as president.
Last month, she sued Secretary of State Kris Kobach and a state elections board he leads after the board kept Obama on the ballot.
The board created a stir by taking time to authenticate information in a copy of Obama's birth certificate from Hawaii available online.
But Kobach is asking Hendricks to dismiss Taitz's lawsuit.
Copyright 2018 The Associated Press. All rights reserved. This material may not be published, broadcast, rewritten or redistributed. We strive to uphold our values for every story published.