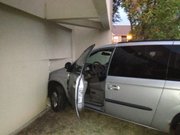 The Lawrence Gymnastics and Athletics building at 5150 Clinton Parkway was damaged after a car drove into the building Monday night.
LGA manager Carol McGarity said the car struck the south side of the building about 7:40 p.m. The car went through the wall of the building, and mirrors were damaged. However, the room was unoccupied at the time of the crash.
No injuries were reported, and classes continued as scheduled.
"Everything's still up and running," McGarity said. "We're just thankful no one got hurt."
Copyright 2018 The Lawrence Journal-World. All rights reserved. This material may not be published, broadcast, rewritten or redistributed. We strive to uphold our values for every story published.