Photo Gallery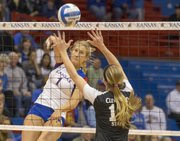 Kansas Volleyball vs. Cleveland State (NCAA First Round)
NCAA Tournament jitters. Poor play. Quality opponent. Whatever you want to attribute it to — and all of those causes were mentioned by coaches and players — Kansas University came out flat in its first NCAA Volleyball Tournament appearance in seven years Friday night.
The Jayhawks, playing in Allen Fieldhouse for just the second time this season, dropped the opening set to Cleveland State, 25-17, in front of a stunned crowd of 3,551, but rallied to win three straight sets and advance to the second round.
"I was glad we got through the first set," Kansas coach Ray Bechard said. "You never know how a team is going to react in a situation like that. Obviously, it wasn't our best opening-set performance. What is important is how we responded after that. We settled down a little bit. We just got sped up, and when we slowed down a little bit and got things under control, we hit .400, .282 and .438 in the last three sets. We had 10 hitting errors in the first set alone and then had five in the last three combined. Everybody just got a little better."
Losing the opening set was a position Kansas has not been in for some time. KU had won its opening set in each of its last five matches.
The Vikings, winners of 13 straight matches heading into the NCAA Tournament, came out strong and were not intimidated by the large crowd or the 11th-seeded Jayhawks en route to the easy first-set victory.
"I was happy with how we played," said Cleveland State coach Chuck Voss. "We weren't overwhelmed with the environment, and I think a lot of teams would have been."
Kansas responded to the shocking first-set loss by posting a 25-10 victory in the second set, its most lopsided victory margin of the year.
Kansas went on to win sets three and four to set up a second-round match with Wichita State. Match time is 6:30 p.m. today at Allen Fieldhouse. The Shockers rallied from a 2-0 deficit to upend Arkansas, 3-2, Friday.
The opening round of the tournament and the large crowd affected KU to start the game, according to Jayhawk junior Caroline Jarmoc.
"Nerves. Different atmosphere," Jarmoc said of the slow start. "Even though we have been playing and practicing in Allen for the past week, I think it was the crowd and being in the tournament. None of the girls on the team have ever played in the tournament. I think it was getting those kinks out, getting together as a team. We had to communicate differently because it was so loud in the gym."
Jarmoc said the crowd then helped the team as the match progressed.
"When the crowd is cheering, it helps you with energy and happiness overall, and you get more relaxed when you know you have a bunch of supporters," she said.
Bechard appreciated the large crowd as well.
"It was really exciting to see them into it," he said. "They didn't bail on us after the first set. They were enthused and encouraged, and our team could sense that and feel that. I thought it was a really great night for the fieldhouse to have high-level volleyball — both matches — in there. I would think Saturday night we would add a few people."
Sophomore Sara McClinton led the way for Kansas with 16 kills, while committing just three errors on 31 total attacks. After the disappointing first set, she was encouraged by her teammates to keep playing hard.
"I knew that my role on my team is to get kills, and that is how I can contribute the most to my team," McClinton said. "I just kept swinging away because I knew that was what my team needed."
Catherine Carmichael added 11 kills for Kansas, while Tayler Tolefree registered nine kills and a game-best six blocks.
The Jayhawk front line also did its part defensively, registering 12 total team blocks and holding Cleveland State to a 49 hitting percentage for the match.
The Jayhawks, who were making their first NCAA Tournament appearance since receiving three straight bids from 2003-05, registered their first postseason victory since 2004.
Kansas and Wichita State will be meeting for the first time since the Shockers posted a home victory in 2002.
"We are pleased to be moving on," Bechard said. "We know we have a worthy opponent Saturday, but we will get ready for that later. We are excited about the opportunity to play in the second round."
Copyright 2018 The Lawrence Journal-World. All rights reserved. This material may not be published, broadcast, rewritten or redistributed. We strive to uphold our values for every story published.