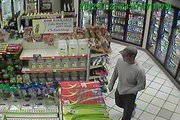 A 35-year-old Maryland man was charged Wednesday in Douglas County District Court with the recent robberies of two Lawrence convenience stores.
Daniel C. Cisneros, of Elkton, Md., was charged with a Sunday night robbery of the Zarco 66 convenience, 1500 E. 23rd St., as well as the attempted robbery of the Kwik Shop, 1611 E. 23rd St.
Lawrence Police Sgt. Trent McKinley said officers followed leads Tuesday that eventually led them to the suspect, who was staying with relatives in the 1700 block of Gennessee Street.
Witnesses reported similar behaviors in both cases, in which a white man wearing a hat with the West Virginia University logo confronted employees and demanded money. In the Sunday robbery, no weapon was displayed. In the Monday attempt, the man put his hand under his shirt, giving the impression he had a weapon. Employees in the Monday attempt refused to give the man money, and he fled.
According to court documents from the state of Maryland, Cisneros pleaded guilty in 2009 to theft of less than $1,000 and was placed on probation. The man also received a traffic ticket on Nov. 17 in Maryland for driving without a license.
Police obtained, and released to the public, surveillance photos in both cases.
Bond was set at $10,000.
Robbery is a level-5 person felony in Kansas, and, depending on someone's criminal history, a conviction could result in up to 136 months in prison.
Copyright 2018 The Lawrence Journal-World. All rights reserved. This material may not be published, broadcast, rewritten or redistributed. We strive to uphold our values for every story published.