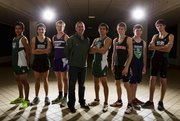 Runner of the year:
Angel Vasquez, De Soto
The Wildcats senior raced to top-10 finishes at the Rim Rock Farm Classic and KC Metro Championship before taking first place in the Frontier League, winning a Class 4A regional title and finishing his outstanding prep cross country career as 4A's state runner-up — Vasquez completed the 5K championship course in 15:54.7, just 8.6 seconds behind winner Josh Hanna of Winfield.
Coach of the year:
Chris McAfee, De Soto
A great season for the Wildcats coach and his runners ended at the 4A championship in Wamego with a third-place finish. DHS runners Angel Vasquez, Luis Murillo, Teddy Koehler, Nathan Zwahlen, Diego Sanchez and Max Taulbee all finished in the top 38 at the Wamego Country Club.
First team
Gavin Fischer, Lawrence — The Lions senior won Shawnee Mission West's senior boys race, finished third at the Manhattan Invitational and took second place at a 6A regional with a season-best time of 16:14.1.
Ethan Hartzell, Baldwin — The BHS junior capped his season with a fifth-place finish at 4A state after winning a regional title and finishing runner-up to De Soto's Vasquez at the Frontier League Championship.
Ryan Liston, Free State — Consistently one of the Firebirds' top two runners all season, the sophomore emerged as leader of the FSHS pack the last two weeks of the season, for regionals and state.
Brandon McCaffrey, Bishop Seabury — The Seahawks' senior team captain finished in the top four at three regular-season events before finishing runner-up at a 2A regional and earning an 11th-place state medal in his finale.
Luis Murillo, De Soto — In his freshman season with the Wildcats, Murillo set a personal record of 16:12, took third in the Frontier League, fourth at a 4A regional and 14th at state.
Trail Spears, Free State — A transfer from Junction City, the Firebirds senior spent most of his only season at FSHS as the team's top runner and took first place at the Haskell Invite.
Angel Vasquez, De Soto — Already a state track champion in both the 3,200- and 1,600-meter races, Vasquez's running dominance continued this fall, and he set a personal record in the cross country 5K with a time of 15:32.
Honorable mention
Chase Bouse, Wellsville; Thomas Ezell, Lawrence; Garrett French, Tonganoxie; Fletcher Koch, Free State; Cole Meyer, Wellsville; Jon Miller, Eudora; John Mwithiga, Lawrence; Joe Pierce, Baldwin; Kit Rice, Bishop Seabury; Diego Sanchez, De Soto.
Copyright 2018 The Lawrence Journal-World. All rights reserved. This material may not be published, broadcast, rewritten or redistributed. We strive to uphold our values for every story published.