The best regular season in Kansas University volleyball history came to a close on Saturday with a dominating straight-set victory over Texas Tech and a few tears.
Photo Gallery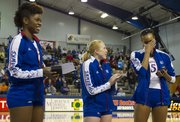 KU volleyball Senior Day vs. Texas Tech
Thanks to their fourth straight sweep and their 13th of the season, the Jayhawks on Saturday closed out the best season in school history with an exclamation point that sent out the program's three seniors in style.
KU led from the first serve and cruised to a 25-11, 25-19, 25-19 victory to improve to 25-6 overall and 12-4 in Big 12 play.
KU's previous best winning percentage in the program's 38 seasons came in 1986, when the Jayhawks finished 26-9 and won 74.3 percent of their games. This season's .804 percentage not only marked the best performance ever, but also featured a 16-1 record at home and a top-three finish in Big 12 conference play — both all-time bests, as well.
"The coach in you just doesn't allow it to sink in yet because we're thinking about all the possibilities next week," said KU coach Ray Bechard of next week's NCAA Tournament. "But my wife's on me all the time, 'Good grief, can you enjoy this a little bit?' We do to an extent, but it's always what's next. 25-6, 12-4 against a really good schedule is very meaningful. At some point we'll look back and say, 'Hey, that team did stuff that no other team did.' But we're a little bit greedy right now. We want to continue to play at a high level and we want to continue to play beyond next week."
Unlike seasons past, when the Jayhawks had to sweat it out on selection day or avoid the news altogether, today figures to be an exciting time for the 20th-ranked Jayhawks, who are a lock to qualify for their first NCAA Tournament appearance since 2005 and will get together at 3 p.m. to watch the field be announced.
"It's gonna be a lot of fun," Bechard said. "The only intrigue is where ya goin' and who ya playin', but it'll be a joyous day and it'll be a culmination of a lot of work for this program."
The Jayhawks have won 25 matches in a single season just eight times in school history. And the first four times they did it came from 1975-78 when the regular season included more than 50 matches. KU's highest win total under Bechard came in 2003, when they finished 22-11.
While KU's team was busy charging toward history, junior libero Brianne Riley made a little of her own. With 11 digs on the day, Riley became KU's all-time digs leader, passing Melissa Manda (2007-10) by two. Riley, who has the 2012 postseason and her entire senior season still ahead of her now has 1,459, passing Manda by two. As luck would have it, the two she needed to snag sole possession of the record came in Saturday's third set and on the same rally. Riley said the record-breaking digs, which all but fell into her lap, were two of the easiest of her career.
"Yes, they were," she said with a laugh. "They were right to me. I don't mind. I'll take it."
Even though she was thrilled for the individual honor, Riley already had turned the page to what promises to be a memorable day for Kansas volleyball.
"I'll never forget last year," she said of KU falling short of the tournament field in 2011. "We didn't really get together. We didn't think our name was gonna come up, but there was a slight possibility, and it didn't. I've never been more disappointed about missing out on something like that. And this year, not only do we know we're gonna be in that tournament but we should get a pretty good seed, which is just awesome."
Although the Jayhawks played well in all three sets and tore up yet another Big 12 opponent on Saturday, the highlight, for most of the 1,060 in attendance at the Horejsi Center, came after the match, as the three seniors fought through a barrage of tears and cheers to thank everyone who helped them — and their team — get to this point.
Senior transfer Sylvia Bullock, who came to KU as a grad student after playing four years of basketball at Miami (Fla.) spoke first and kept her speech short and sweet. She finished her final home match with one kill in one try.
Defensive specialist Morgan Boub went next and she sprinkled tears and smiles into her thank-you's. Boub, who played in more than 100 matches — including 60 starts — finished with two digs.
And then came middle blocker Tayler Tolefree, the Lawrence High graduate and three-time academic all-Big 12 honoree, who has made 90 straight starts and climbed into KU's top 10 in block assists, total blocks and blocks per set. She did not expect tears, but they came.
"It was fun, but (today was really about) just cherishing how you feel with your teammates on the court. ... It's great because we're not done."
Added Bechard of the seniors: "We're excited that this isn't the last time we get to see them play. That's what we said in the locker room: 'It's not goodbye.'"
Copyright 2018 The Lawrence Journal-World. All rights reserved. This material may not be published, broadcast, rewritten or redistributed. We strive to uphold our values for every story published.