Salina — One by one, Eudora High football players exited the visitors' locker room Saturday afternoon at Salina Central, battling the urge to cry and looking for friends and family members to embrace.
Photo Gallery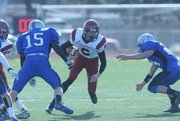 Class 4A state football championship: Eudora vs. Holton
The Cardinals earned their second straight trip to the Class 4A state championship game by bruising opponents with a dominating rushing attack all season long. But EHS left disappointed after running into a deep, talented, unbeaten Holton team that specialized in that exact brand of football and beat Eudora at its own game, 21-0.
Eudora only picked up six first downs all afternoon and finished with 135 rushing yards (led by senior running back Gabe Cleveland's 56 and junior quarterback Andrew Ballock's 54) on 44 carries.
Cardinals coach Gregg Webb thought his team would have more success on offense, but when Holton (14-0) abandoned its typical Cover-2 scheme with two deep safeties in favor of sending the defensive backs into the box, it became nearly impossible for the Cardinals (12-2) to pick up first downs and keep the Wildcats off the field.
"We had a couple of plays, but no consistency," Webb said. "Our formations weren't right. Even when we did block plays correctly it was a gain of three or four maybe."
Neither team created much offensive success early. Eudora senior safety Garret Elston ended Holton's first possession by picking up a Jaxon Wright fumble and the two title contenders traded punts and turnovers on downs for nearly 20 minutes before the Wildcats landed the first fatal blow with a nine-yard rushing touchdown by senior running back Chase Wilson with 2:16 left in the first half.
An 18-yard kickoff return by EHS senior Tanner Tornedon gave the Cardinals decent starting field position at their own 34-yard line with 2:06 to go until the break, but Eudora had used all three of its timeouts on offense in the first quarter and couldn't break a run long enough to get in scoring position before the half.
Holton opened the third quarter with a 7-0 advantage, but quickly added to it after forcing a three-and-out on defense. The Wildcats scored on the second play of their opening second-half series with a 37-yard touchdown run by Wright, who broke a tackle and took off to set up a 14-0 Holton lead less than three minutes into the third quarter.
That TD in particular, Ballock said, put Eudora in a tough spot.
"That was big for them," the junior said. "They got a lot of momentum and 14-0 was pretty comfortable."
In desperate need of some kind of offensive break to get back in the game, Eudora only found 28 yards and two first downs on its next two possessions and Holton sealed its first state title since 2005 with a 35-yard rushing TD by Lane Lassiter with 10:41 left in the fourth.
EHS moved the ball farther than it had all game on its next series, thanks to a 41-yard run by Ballock on fourth-and-one from the Cardinals' 29. But a Ballock pass with a little too much air on it led receiver Mason Tomlinson out of the back on the end zone on fourth-and-eight with 6:10 to go and the Wildcats ran out the clock to leave Salina as state champions.
While EHS averaged 3.1 yards a carry, Holton ran for 218 yards on 40 attempts (5.5 a carry). Ballock said Holton had the solution to nearly every Eudora play call.
"They were really physical and ran to the ball really good and just swarmed (us)," the quarterback said after EHS picked up just three first downs in the second half.
The two rush-heavy teams combined to attempt just seven passes and Ballock's two-yard toss to Tomlinson in the third quarter marked the only completed forward pass in the title game, which took just one hour and 56 minutes to play.
Though Eudora lost 21-0 in the 4A title game for the second straight year (Rose Hill beat the Cardinals in 2011), Webb said his team shouldn't look at this season or last as a failure.
"All those good feelings and the wins that we had, they've just got to remember those," Webb said.
Ballock agreed: "It's tough to make it all this way and not win, but just to get to this game is a pretty special thing."
BOX SCORE
Holton 21, Eudora 0
EHS HHS
First downs 6 11
Rushes-yards 44-135 40-218
Passing yards 2 0
Total offense 137 218
Fumbles-lost 1-0 3-1
Penalties-yards 5-33 2-10
Score by quarters
Eudora 0 0 0 0 — 0
Holton 0 7 7 7 — 21
Individual statistics
Rushing
EHS: Andrew Ballock 18-54, Gabe Cleveland 16-56, Garret Elston 9-22, Tanner Torneden 1-3.
HHS: Cameron Karn 16-59, Drake Ewing 9-31, Jaxon Wright 5-73, Lane Lassiter 5-42, Chase Wilson 2-9, Hunter Price 2-8, Team 1-minus-4.
Passing
EHS: Ballock 1-5--2.
HHS: Wright 0-2-0.
Receiving
EHS: Tomlinson 1-4.
HHS: None.
HOW THEY SCORED
Second quarter
2:16 — Chase Wilson 9 run. Brenden Hampton kick. (HHS 7, EHS 0.)
Third quarter
9:42 — Jaxon Wright 36 run. Hampton kick. (HHS 14, EHS 0.)
Fourth quarter
10:41 — Lane Lassiter 35 run. Hampton kick. (HHS 21, EHS 0.)
Copyright 2018 The Lawrence Journal-World. All rights reserved. This material may not be published, broadcast, rewritten or redistributed. We strive to uphold our values for every story published.