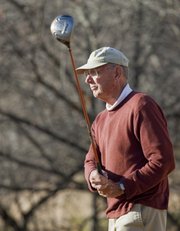 Talent-challenged golfers everywhere obsessively track their scores. In recounting their most recent rounds to audiences who instantly begin formulating exit strategies, they tend to rely on words such as "if" and "I would have had a" and "lipped out." In many cases, the more intensely they crave success, the more difficult it becomes to attain it.
And then there is Jerry Waugh, who plays most of his golf at Alvamar's two courses. Ask him what he shot, and the most likely response is, "You know, I don't know."
For the vast majority of golfers, shooting one's age is a fantasy that never will become reality. For Waugh, 85 and getting younger by the minute, it's routine. How many times has he shot his age this year, which by the way included nearly four months without golf because he underwent hip-replacement surgery?
"I don't know," he said. "Being outside and being with friends. That's the important thing."
A check of ghin.com, which tracks handicaps through October and shows a golfer's most recent 20 rounds, makes it understandable why Waugh treats the difficult feat as no big deal. Waugh shot his age once and shot lower than it 10 times in the 20 rounds shown.
In a three-round span at the end of August and beginning of September, Waugh carded 80, 80, 79.
The man and his game are one and the same: forever young. He prefers to walk and carry his bag on his back but might ride in a cart if that's what the rest of the group does that day.
Waugh summed up the key to golf in one word: balance. To watch him play a round is to marvel at the sound mental and physical balance he exhibits.
Waugh's ageless flexibility enables him to take the club back and through the ball freely, a remarkably repeatable swing that results in shots that stay on the fairway and ultimately gravitate toward the pin. He makes the golf swing sound as easy as he makes it look.
"There's a core around which you swing," he said. "And you've got to keep the core. Not up and down and sliding back and forth."
His athletic balance enabled him to play basketball for Phog Allen at Kansas University, where at various times he served as assistant basketball coach to Dick Harp when Wilt Chamberlain played, men's golf coach, women's golf coach and assistant athletic director. (He also had stints as head basketball coach at a pair of northern California universities, Chico State and San Francisco State.)
Waugh in part traces the mental balance required to play golf consistently well to his mother's tucking a message on the side of his bedroom mirror when he was a boy.
"It was an East Indian proverb and it said: 'I had no shoes and I complained until I met a man who had no feet.' I read that every day in that mirror over and over and over, and I remember that," Waugh said. "I'll always remember that."
It helps him to realize breaks, good and bad, even out and not just on the golf course.
A native of Wellington, where he learned to golf on sand greens, Waugh joined the Army directly out of high school. He trained as a paratrooper in Fort Benning, Ga., where he then had an office job. Had he been a year older, he might have fought in the Battle of the Bulge.
"I was awful lucky I didn't get into that and get my (tail) shot off," he said. "On the other hand, I was one year (too old) out of being on the (1952) national-championship team and getting to play in the Olympics. So it's a tradeoff."
Few things can undermine a round of golf as thoroughly as obsessing on a so-called bad break. Avoiding such negative-energy trappings helps Waugh beyond the golf course.
"I don't think about being old," said Waugh, who lives with wife Dolores in a house alongside an Alvamar private dog-leg hole. "I read somewhere where the guys on the pro tour said, 'In the evening after the round, don't hang out with bad putters. They've got bad attitudes, and they influence you.' I've kind of adopted that philosophy. I don't want to hang out with old people because they influence you."
By "old," Waugh said, he did not mean number of years on the planet. He meant people who obsess on the negative aspects of aging.
"You've got to stay young," he said. "It's all an attitude about your health and how you move and how you carry yourself. And you have to have fun playing golf and don't get with people who complain."
Waugh applied lessons learned from sports psychologist David Cook long before Cook penned his best-selling novel, "Seven Days in Utopia: Golf's Sacred Journey." Cook worked at KU from 1984-96.
"He talked about circle of control as a player," Waugh said. "You can't let things bother you on the golf course because they're out of your control. You have to stay within your control to play this game. And the other thing he said is, your personal self-worth is not based on your last round of golf. I didn't play well today. It's over. It's over. When do we play again?"
Copyright 2018 The Lawrence Journal-World. All rights reserved. This material may not be published, broadcast, rewritten or redistributed. We strive to uphold our values for every story published.