In the 57 years since Allen Fieldhouse was built, dozens of Kansas University athletes have set records on the fieldhouse floor.
Thanks to an 18-dig performance Wednesday night that broke Kansas volleyball's single-season record and brought her to the brink of eclipsing the career mark in just three seasons, Brianne Riley now is one of them.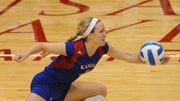 Photo Gallery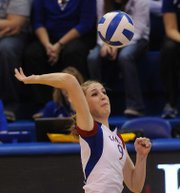 KU volleyball vs. Saint Louis at Allen Fieldhouse
"I've never thought about it in those terms, but I like it," said a smiling Riley moments after helping the 20th-ranked Jayhawks (24-6 overall, 11-4 Big 12) wipe the floor with visiting Saint Louis University, 25-16, 25-16, 25-12, in front of an energized crowd of 3,222.
For Riley, a junior from Naperville, Ill., Wednesday night was more about fine-tuning the team for the upcoming NCAA Tournament. The Jayhawks, who have not qualified for the postseason since 2005, will learn their fate on Sunday, but there's a chance that KU could wind up hosting the first couple of rounds. If that's the case, the Jayhawks again would play at Allen Fieldhouse because the capacity of their home gym, Horejsi Center, falls 700 seats shy of the NCAA's requirement of a 2,000-seat minimum for all postseason matches.
In their first match in Allen Fieldhouse since 1999, the Jayhawks faced little resistance from an overmatched Billikens team Wednesday. KU was quicker to the ball, better at the net and used a suffocating defense to force SLU into several errors.
"We did what we needed to do," KU coach Ray Bechard said. "Did we play our best? Probably not. But we played well, and the second time around maybe we could play a little cleaner."
KU figures to be a lock for the tournament no matter what happens in their season finale on Saturday against Texas Tech. Where the Jayhawks will play remains the only mystery. After Wednesday, however, it's now clear that if the Jayhawks are lucky enough to host, they'll be ready.
"It's a whole different deal," Bechard said. "You can't get 3,200 people in (Horejsi). But it was good. If there was any hesitancy from our team about what that might look like, I think that went away early because it was a good-sized crowd that was involved in the match."
That allowed the Jayhawks, who, with the win, clinched the highest single-season winning percentage in program history, to play the style of volleyball that has led to the magical year.
For Riley, that meant throwing her body all over the place to get to any ball that threatened to touch the floor.
"She'd be the first to admit that she's not the greatest athlete in the world," Bechard said. "But she's the greatest competitor that we've had in that position. The single-season record, OK, that's fine. But to get to the career record in three years is pretty ridiculous."
By reaching 563 digs on the season, Riley broke Catalina Suarez's 26-year-old record. With 1,448 for her career, the junior sits just 10 shy of breaking Melissa Manda's career mark of 1,457 set from 2007-10.
Riley set her sights on the record on her first day on campus when she looked up at the records board and asked Bechard how many she needed.
"I gave her that number and she said, 'I got that,'" Bechard recalled. "That's before she even knew she was gonna be the libero here. It was pretty clear to us that she was a cut above everybody else when it came to the whole package of what that position requires."
Now that she owns one record and is so close to the big one, Riley can begin to reflect on what she has accomplished.
"I'm excited that I can leave my mark here and hopefully they can say my name in this gym for a while," she said. "Melissa Manda's grandpa texts me after every game. That is possibly the coolest thing ever. The support that I have here and the people who have my back and are so happy for me, it's a combined effort; it's not just me."
So what's next?
"Set it higher so I can keep my name up there for a while," Riley said.
Copyright 2018 The Lawrence Journal-World. All rights reserved. This material may not be published, broadcast, rewritten or redistributed. We strive to uphold our values for every story published.