Photo Gallery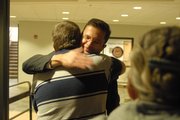 Jury finds Ramona Morgan guilty
Douglas County District Court Judge Paula Martin earlier this month upheld the conviction and sentence of a 53-year-old woman convicted of killing two highway workers while driving south of Lawrence in 2007.
Ramona Morgan, of Chewelah, Wash., filed a petition in Douglas County, arguing that she received ineffective assistance of counsel and that her sentence — 26 years — was excessive.
According to Martin's decision, while there were some errors committed by Morgan's court-appoitned attorney, Billy Rork, they would not have affected the jury trial outcome, the judge ruled.
During Morgan's 2008 trial, witnesses testified that Morgan drove around a pilot car twice at a U.S. Highway 59 work zone south of Lawrence on Sept. 11, 2007. The second time she struck and killed two workers — Ty Korte, 30, and Rolland Griffith, 24 — and law enforcement officers had to puncture the tires of her pickup truck in Osage County after a chase to get her to stop.
Morgan claimed she thought she was being chased by a gang of robbers after a dispute over some property she intended to buy in Missouri the day before. Morgan has denied she struck the workers and instead said she ran over construction equipment.
Morgan's earliest possible parole date is in 2030.
Copyright 2018 The Lawrence Journal-World. All rights reserved. This material may not be published, broadcast, rewritten or redistributed. We strive to uphold our values for every story published.