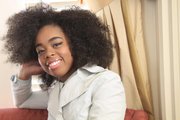 Ask those who do it a lot, and they'll tell you: Thrifting is an art.
For Jacque Amadi, it's also her livelihood.
After spending hours and hours of her spare time sifting through over-stuffed clothing racks, Jacque came up with an idea. She had been working desk jobs to support herself through earning a psychology degree at Kansas University when she decided to change her thrifting hobby into a business, shoplioness.com.
"I go thrift store shopping a lot in Wichita, my hometown, and in Lawrence and Kansas City. I was bored with the jobs I had in college, and I was broke. It's a creative way to make money for college."
Jacque's website makes finding decent and stylish vintage and used clothing a lot easier for the shopper. While some might enjoy the process of finding hidden gems among the hoards of bad '80s pants suits, Jacque's online shop is for those who would rather not go through the pain of the hunt.
"I know how long it takes to sift through a bunch of weird clothes. People can just go to my site and find what they want in five minutes."
Though Jacque considers herself "jobless" now, she puts in close to full-time hours every week to stock, update and promote her website. That sounds like a big investment for someone who doesn't plan on pursuing a career in fashion.
"I'm really interested in psychology. After I graduate, I plan on going to grad school then working in organizational psychology," she said.
Starting one's own business is undoubtedly a mark of an independent woman. Jacque admits her inclination of "doing everything myself" with a laugh. She did all the website design, shopping, styling and, before her camera tripod broke, photographing. Her boyfriend now plays the part of photographer.
Though the site has been up for only a couple weeks, she's already shipped orders all over the United States, especially to the East Coast. And her prices? Amazingly cheap. Compared with many online vintage shops where dresses can go for $100 or more, Jacque's blazers and blouses run about $12 a pop.
Though she never puts her personally used clothing up for sale, she does confess that her personal closet's stock rotates just about as often as her website.

"I go through a lot of clothes, but I like to hold on to things that cost 50 cents or a dollar because I'm proud of them. I'm more likely to get rid of more expensive items."
Visit shoplioness.com to see Jacque's store, She suggests checking back for apparel additions once per week. She also has a mailing list that sends out updates to subscribers when new items have been added.
Copyright 2018 The Lawrence Journal-World. All rights reserved. This material may not be published, broadcast, rewritten or redistributed. We strive to uphold our values for every story published.