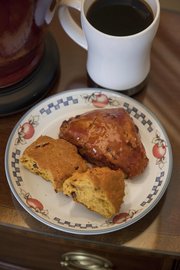 Greetings and happy November, bakers!
In spite of what retailers would have you think, Thanksgiving is more than just the day before the big sales. It's a day to visit with family, count your blessings and try out those awesome recipes that you've been collecting.
While lots of people enjoy second and even third helpings of treats like candied yams and pumpkin pie, there are plenty of folks who just aren't into sweets.
For those members of the low-sugar squad, we'd like to offer these tasty scones. Not quite a biscuit and not quite a muffin, scones are a quick and easy treat that can be dressed up or down according to taste.
To get the ball rolling, fire up your oven to 400 degrees and grease a cookie sheet. Measure 2 1/2 cups flour into a mixing bowl and toss in 1 teaspoon baking soda, 2 teaspoons baking powder, 1/2 teaspoon salt and 1 tablespoon pumpkin pie spice.
Once you've stirred the dry ingredients together, slice in 1 stick of butter and rub it in with your fingers. The result will look a lot like really coarse cornmeal with a few yellow peas thrown in.
Now it's time for the part your kids will want to help with because it looks kind of icky. Scoop 1/2 cup pumpkin puree into a large measuring cup. On top of that, pour 1/4 cup of amber agave syrup. Add 1 egg, then top off the whole mess with just enough milk to bring the total to 1 cup. Now stir!
Pour the pumpkin mixture into the dry ingredients and mix well. Throw in a couple big handfuls of dried cranberries and stir those in, too. You will now have a soft orange dough; wrap it in plastic and stick it in the fridge for 20 minutes or so.
After chilling, the dough will still be fairly soft, so be prepared for the next few steps to be a little on the messy side. Unwrap the dough and turn it out onto a sheet of waxed paper. Flour your hands and pat the dough into a 1/2-inch thick circle. Cut the circle into eight wedges (a pizza cutter is ideal for this).
Using a knife and a sort of scooping/scraping motion, lift the wedges off of the waxed paper and plop them onto the cookie sheet. Bake the scones for 14 minutes, then transfer them to a rack to cool.
Scones are best served fresh and hot, so you can enjoy these right away. If you decide that you'd like a little touch of sweetness, you can dress them up with butter and jam, or coat them with a simple glaze. Heat up 2-3 tablespoons of cranberry juice, then whisk it into 1/2 cup or so of powdered sugar. Put a pan under the cooling rack to catch the dribbles, and brush the glaze evenly over the scones.
Enjoy!
Copyright 2018 The Lawrence Journal-World. All rights reserved. This material may not be published, broadcast, rewritten or redistributed. We strive to uphold our values for every story published.