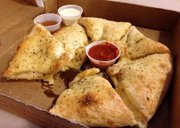 To many a Lawrencian past and present, an order of Bonez is a doughy, cheesy, buttery wreath of happiness.
To elaborate, that wreath would be a huge breadstick filled with mozzarella, provolone and cheddar cheeses, twisted into a circle, brushed with garlic butter, sprinkled with herbs and baked to a golden brown.
It's hot, gooey, crispy, savory and dip-able. And undoubtedly not very healthy ... but that's not the point of this feature, now is it?
Where to get it: Pyramid Pizza, 1029 Massachusetts St.
What you'll pay: $5.99 plus tax
Try it with: Marinara sauce and/or ranch dressing and/or honey — Pyramid's best-known dipping sauce for polishing off their signature braided pizza crusts.
Also on the menu: Pepperoni sticks (which the menu promises will "satisfy even the strongest pepperoni cravings"), buffalo wings and a lineup of toasted sandwiches such as the Philly/Italy inspired Italian Stallion. There's pizza by the slice or whole pies — the Ranchilicious, West Coast Style and Meatball Grinder are among Pyramid's more unique specialty pizzas.
Restaurant website: pyramidpizzalawrence.com
Copyright 2018 The Lawrence Journal-World. All rights reserved. This material may not be published, broadcast, rewritten or redistributed. We strive to uphold our values for every story published.