Eudora — Eudora earned its second consecutive berth in the Class 4A state title game with a 21-7 home sub-state win Friday night over KC Piper.
Photo Gallery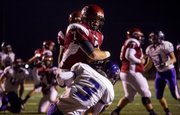 Eudora Football vs. Piper
Andrew Ballock rushed for 147 yards and a touchdown on 20 carries, and Gabe Cleveland rushed for two goal-line touchdowns. On defense, Ballock had two interceptions, and Skyler Manley recovered a fumble.
Eudora trailed 7-6 in the second quarter, then took the lead before halftime on a 1-yard Cleveland touchdown run, followed by a Ballock run for a two-point conversion to push the score to 14-7 in Eudora's favor.
Going into the match-up, Eudora (12-1) had defeated Piper (10-3) in the first week of the regular season at home, 25-7.
Eudora will face Holton (13-0) in the Class 4A state championship game next Saturday at Salina District Stadium at 1 p.m.
Copyright 2018 The Lawrence Journal-World. All rights reserved. This material may not be published, broadcast, rewritten or redistributed. We strive to uphold our values for every story published.