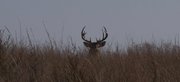 Hunters in Douglas and Franklin counties may find the local deer herds a little thinner this season.
Dozens of the animals have been found dead near lakes and ponds this summer and fall, victims of a seasonal virus that hit the area harder with the help of this summer's drought.
Shane Hesting, wildlife and disease coordinator for the Kansas Department of Wildlife, Parks and Tourism, said the overall effect on Kansas deer was negligible, with 400 reported deaths out of a total population exceeding half a million. But, he said, the disease occurs in bunches, with some areas seeing more infection than others. This year, Douglas and Franklin counties saw more than most, with at least 30 reported cases between them.
The culprit was epizootic hemorrhagic disease, one of a family of viruses that includes bluetongue virus that kills deer across the U.S. every year. The virus infects deer through biting midges, or tiny flies, that breed in mud flats. Hesting said the death toll was higher this year because receding waters in lakes and ponds exposed more mud, breeding more flies and exposing more deer. There should be no new cases, he said, because the midges and the disease were neutralized with the first freezing temperatures of the year.
The hemorrhagic diseases afflicting deer cannot be transmitted to humans, and even an infected deer would technically be safe to eat, Hesting said. But the viruses can cause deer to develop bacterial infections. Hesting said a deer with any kind of bacterial infection would be unfit for human consumption.
He said there might be some truth to popular belief that deer infected with these viruses tend to die near water sources because the disease makes them increasingly thirsty. Another possible reason, he said, could be that the virus causes fever, and the animal seeks comfort in cool water. Or the deer could be seeking safety from predators by wading in a lake or hiding in a stream bed.
Deer hunter Darrel Norris, of Douglas County, said he thinks there might be even more cases that go unreported. He found one dead deer floating on Lone Star Lake several weeks ago, and stumbled on five others this year near his home south of the lake. Norris said he knows these diseases will kill a few deer each season, but it's never been this bad in the 30 years he's lived near the lake and he can see the effect when he goes hunting.
"I've never seen this before," Norris said. "There aren't as many out there."
But they are still out there in numbers. Norris said he still sees healthy deer in his area and even killed a buck with his bow and arrow this season. Archery season for deer in Kansas continues until Dec. 31, and the regular shooting season lasts from Nov. 28 to Dec. 9.
Copyright 2018 The Lawrence Journal-World. All rights reserved. This material may not be published, broadcast, rewritten or redistributed. We strive to uphold our values for every story published.