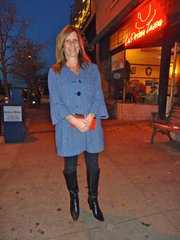 Age: 51
Relationship status: Married, and I'm a grandmother!
Hometown: rural Topeka/Lawrence
Time in Lawrence: 20 years
Occupation: Executive director of a not-for-profit
Dream job: This is it!
What were you doing when scouted? Going out for a New York Cream Soda
Describe your style: Funky and contemporary. This is my favorite jacket.
Fashion trends you love: Boots, oversized jackets, pencil skirts
Fashion trends you hate: Boots and Daisy Duke shorts in the summer, halter tops
Fashion influences: Vera Wang
What would you like to see more of in Lawrence? Street festivals, outdoor shows like the Sandbar birthday party
Less of? Parades
Tattoos or piercings? I have my bellybutton and ears pierced
Who do people say you look like? When I was a kid, I got Melissa Gilbert from Little House on the Prairie. Since then, I've gotten Sandra Bullock.
Tell us a secret … I used to have a Harley.
Copyright 2018 The Lawrence Journal-World. All rights reserved. This material may not be published, broadcast, rewritten or redistributed. We strive to uphold our values for every story published.