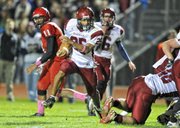 After reaching the Class 4A state championship for the first time in school history in 2011, Eudora High coach Gregg Webb and his staff had significantly lower expectations heading into this season.
The Cardinals, after all, had lost so much talent from their 12-2 state runner-up team, particularly on the offensive line.
"We just thought, 'Holy cow. We're not gonna be able to run the ball at all,'" Webb said.
Even coaches can be wrong sometimes. Eudora (11-1) has averaged 276.7 yards a game this year and can get back to the state championship game with a victory against Kansas City Piper in the semifinals on Friday — 7 p.m. kickoff at EHS.
This season's dominance wasn't expected, but Webb said the Cardinals progressed similarly to last year — despite an ongoing search to find the right combination on the offensive line. Junior quarterback Andrew Ballock and senior backs Garrett Elston, Gabe Cleveland and Markis Hill have combined for 3,173 rushing yards and 34 touchdowns as the coaches mixed and matched linemen up until the last couple of weeks.
After much prodding from his assistant coaches, Webb finally gave in and moved senior tight end Nick Becker to right tackle (a change made possible when Cleveland recovered from a nagging injury, allowing Hill to move to tight end). Now the Cardinals have Hill, Becker and guard Eric Rogers manning the right side, with center Andrew McNish, left guard Blake Beerbower and left tackle Landon Walrod working together to open holes for the rush-heavy offense.
Meanwhile, the Cardinals defense hasn't allowed more than 10 points since its Oct. 5 loss to St. James Academy. EHS has won six straight since then — including playoff shutouts against De Soto and Louisburg — and has outscored its opponents by an average of 29.2-3.7.
Webb has been surprised by the effectiveness of his line on that side of the ball, too. He cited the ability of Skyler Manley, Justus Merz, Connor Bradley, Noah Pfeifer, Rogers and Becker to occupy blockers as key to the team's defensive success. The line has allowed linebackers Hill, Cleveland and Steven Simpson to clean up everything else.
"They're playing about as well as any linebacker crew that we've had in a long, long time," Webb said. "They're physical, and they run to the ball and get tackles."
Then there's Eudora's secondary. The defensive backs — Ballock, Elston, Tanner Tornedon, JT Howell and Seth Griffith — have combined for 15 interceptions.
The defense made Webb most proud in a 20-0 shutout of Baldwin in the regular-season finale. The coach said the Cardinals will have to re-create that kind of effort if they want to beat a Piper team with athletes who can make defenders look "awful silly" in one-on-one match-ups.
"We just flew around the football field and made plays," Webb said of the win over BHS, "and if we play like that, we're gonna be OK defensively."
Eudora beat Piper, 25-7, in the season opener.
Copyright 2018 The Lawrence Journal-World. All rights reserved. This material may not be published, broadcast, rewritten or redistributed. We strive to uphold our values for every story published.