Photo Gallery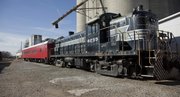 All aboard the dinner train
Kansas Belle's public financing
A number of public economic development financing tools made the move of the Kansas Belle Dinner Train to Baldwin City possible. Among them were:
• A $5,000 Baldwin Economic Development Grant.
• A three-year, $15,000, low-interest loan. The loan payments will be forgiven on an annual basis if the dinner train's owners can demonstrate through ticket sales and Kansas sales tax records that the dinner sold 6,000 tickets and collected $5,000 of sales tax revenue in 2013, sold 6,500 tickets and collected $5,500 in sales tax in 2014, and had 7,000 paying passengers and raised $6,000 in sales tax revenue in 2015.
• A $25,000 Entrepreneurship Communities loan from the NetWorks Program, which makes money available for business opportunities in smaller Kansas communities.
• A $54,000 heritage grant from Douglas County to help build a short spur line equipped with utilities on which dinner cars will be parked when not in use.
Monday morning in a rock quarry north of Ottawa, a crane operator gently picked a 75-foot red dining car from the back of a semitrailer to place on two sets of wheel assemblies already on railroad tracks.
The car was pulled later in the day to Midland Railway's Baldwin City yard, where it will be part of what is now called the Kansas Belle Dinner Train.
The use of the quarry site for the transfer was the latest adjustment the owners of the dinner train made to move their business from Fremont, Neb., to Baldwin City's Midland Railway. Last week, they found there wasn't enough room at the Baldwin City yard to transfer the first car, a 65-foot-long baggage car equipped with a generator that powers the dining cars when on the move, from its carriage behind a semitrailer to the railroad tracks.

All went well Monday, and Bob Eveland, manager and co-owner of the Kansas Belle Dinner Train, is hopeful that the remaining inventory of five dining cars and one caboose can be moved by Thanksgiving to Baldwin City and operating on Midland Railway's 21-mile line in time to salvage some of the holiday season.
"I'd like to be operating at least part of December," Eveland said. "That's an important month."
Eveland started exploring the move to Midland Railway more than a year ago out of concern the Fremont and Elkhorn Valley Railroad, a 15-mile excursion line that had been the dinner train's home for 24 years, might not be properly maintained with its recent sale.
"It's taken this long," he said. "When we started talking, Midland Railway was at a point they felt it would enhance their overall financial operation and provide their customers with more options.
"We needed a place to live. The scenery is good. The railroad is in good shape. The location is good."
Although the uncertain future of the Fremont and Elkhorn Valley Railroad prompted the move, Eveland also thinks the dinner car business will benefit from moving from a site dependent on the Omaha and Lincoln markets to one that taps into the Kansas City metropolitan area.
"It's fair to say it's a superior location," he said. "At the same time, we're close enough we think customers we've had over the years will find a good reason to come down to Kansas."
The dinner train was at its peak before the recession; more than 10,000 tickets a year were sold for the experience that included a ride and meal on its four primary dining cars.
Eveland isn't alone in anticipating tourists will find their way to the dinner train. The Baldwin City Council and the Douglas County Commission have helped bankroll the move because of that potential.
Midland Railway officials are also excited about the prospect of the dinner train adding to the 20,000 visitors it draws annually. The railway will receive payment from the dinner train for the use of its tracks and locomotive, but the Kansas Belle also will showcase a side of railroading history Midland Railway hasn't been able to offer, said Mike Fox, president of the Midland Railway Historical Association.
"It's another leg on the stool," he said. "It will enable people to see scenic parts of Douglas and Franklin counties from a dining car — a part of railroad history that I don't think is offered anywhere else in Kansas."
The Midland Railway's Sunday excursion train schedule would need to be tweaked next spring, but there would be no real conflicts with its existing late morning and afternoon trips on Thursdays, Saturdays and Sundays with that of the Kansas Belle, Fox said.
Eveland said the plan was for the Kansas Belle to duplicate the dinner train's Nebraska schedule with Friday and Saturday evening runs and early afternoon Sunday trips. The Friday and Saturday trips will feature five-course meals. Formal attire is encouraged. Sunday outings are more informal, geared for families, with children's menus available.
"It will be from the low- to mid-$60 range for the evening meal," Eveland said. "Sundays are a little less."
Meals on cars offering entertainment will cost more. As in Nebraska, customers will have the option of buying tickets on cars featuring mysteries, melodramas, recreations of World War II USO shows and other musical offerings, Eveland said.
Unlike the Midland Railway, which runs seasonally from April though November, the heated and air-conditioned dinner cars run 12 months a year. Eveland said it wasn't yet known, though, whether the three-day a week scheduled would be maintained in the coldest, post-holiday months.
The Kansas Belle Dinner Train would hire roughly 15 part-time employees as waiters, bartenders, office clerks and custodians, Eveland said. It will also provide work for the caterer, who prepares the meals for the 70 people who purchase tickets for each trip, he said.
"We're working on that," he said. "I'm coming down this week to start getting that in place."
Copyright 2018 The Lawrence Journal-World. All rights reserved. This material may not be published, broadcast, rewritten or redistributed. We strive to uphold our values for every story published.