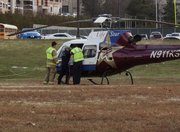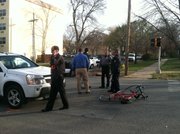 Police identified a cyclist hit by a sport utility vehicle Tuesday afternoon near 11th and Kentucky streets as Donald L. Varnau, 64, of Lawrence.
Varnau, who was wearing a helmet, was sent by air ambulance to Kansas University Hospital after suffering critical injuries when he collided with an SUV about 3:15 p.m.
Lawrence Police Sgt. Trent McKinley said officers were still investigating, but released this preliminary recap of the accident:
The SUV, driven by William J. Wozniak, 20, of Dellwood, Minn., was westbound on 11th Street, while Varnau was eastbound on 11th Street. At the Kentucky Street intersection, Varnau failed to yield to the SUV while attempting to turn left onto Kentucky.
Wozniak did not show signs of impairment, police said, and he was not issued a ticket.
A condition update on Varnau was not available Wednesday morning.
McKinley said police are looking for eyewitnesses and urged anyone who saw the accident to call Lawrence police at 832-7509.
Copyright 2018 The Lawrence Journal-World. All rights reserved. This material may not be published, broadcast, rewritten or redistributed. We strive to uphold our values for every story published.