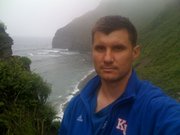 He left his home in Russia for Kansas, speaking English more broken than the average skid-row dream.
Four years later, Egor Agafonov left Kansas University with track and field records in multiple throwing events, two national indoor championships, a degree in economics and All-American and Academic All-American honors decorating his resume. He did all that in his second language — and still had time to tutor members of the football team during his senior year at KU. Last month, he was inducted into the Kansas Athletics Hall of Fame.
Now, Agafonov wants more. A 2009 KU graduate now residing in Russia, he wants a permanent home in Kansas for his family. Based on his track record of setting goals and reaching them, chances are good Agafonov will get his wish, but given the bureaucratic hurdles he has to get over, he knows there is no guarantee that he'll achieve his American dream.
"There are so many people willing to help me here, but sometimes it's tough," Agafonov said in a recent interview over lunch in Lawrence during a visit to Kansas. "It's complicated, going through these procedures."
To hear him tell it, there is no place like Kansas to make a home.
"I like the freedom, people able to do whatever they want; of course, there are certain limits," Agafonov said of why he wants to make a home here. "And the convenience. It's a really developed country. The roads, the environment. Everything is well-built."
At that point, his expression grew somber. He seemed to be picturing something in the distance during a long pause.
"I think about the schools my children will be at," he said in a way that made it clear he thinks about it often.
It's not as simple as putting his hometown sweetheart wife, Anna, and 3-year-old son, Yaroslav, on an airplane and finding a job and an apartment. His status as a foreigner complicates matters considerably.
During his recent two-week stay in Kansas, Agafonov looked for work and explored other avenues of returning to the United States from Russia, where he and has family have lived for stretches with former KU basketball player Sasha Kaun, now playing professionally in Moscow, and his wife.
Agafonov had hoped the experience he acquired working briefly after graduation for Dish Network, in the global marketing division, would qualify him for employment opportunities. Without citizenship, a potential employee needs to be more than qualified, Agafonov's former KU throws coach, Andy Kokhanovsky, explained.
"If an employer brings someone from overseas, the employer has to have proof for Immigration that they could not find a qualified American for the job," said Kokhanovsky, himself a native of the Ukraine.
The employer also must pay the visa fee of slightly more than $1,000, according to Agafonov.
Not wanting to pin all his hopes on those factors falling into line,
Agafonov is pursuing another path to achieve his dream. He as applied to KU's Masters in Business Administration program and for a job as a graduate assistant in the athletic department's academic support staff, where his name is as golden as any medal he ever could win.
"Of all the students I've worked with in my 19 years working with international students, Egor was as hungry to learn as anyone," said Phil Lowcock, KU's coordinator of international student-athlete support.
Unlike most universities, Kansas decided as an institution more than a quarter century ago to evaluate applicants from foreign countries based on their aptitude in their original language, regardless of their proficiency level in English, according to Paul Buskirk, direct of student-athlete support services. In doing so, Kansas attracts the best minds, though not necessarily the most polished speakers of English.
Such students take an English proficiency exam. If they can test out of Applied English Center courses, they take classes with the general student body. If they don't, they must take AEC classes until their English advances. "A non-athlete can sit in AEC classes a semester or two or four or as long as they need to gain English proficiency," Buskirk said. "The NCAA (dictates) that the student-athlete has to become English-proficient in one year, zero to 60 in one year."
That wasn't much of a challenge for Agafonov when he arrived at KU from his hometown of Togliatti, Russia.
"For Egor to come in not knowing much English, soars through that in a year, and is thrown immediately into competition with regular English instruction in such a short period of time and becomes an Academic All-American is absolutely stunning," Buskirk said. "Absolutely stunning."
Buskirk said it is rare for students to become tutors during their stay and "only the brightest" are given such a responsibility.
Lowcock said Agafonov wondered why he had to take AEC classes. He wanted to be mainstreamed immediately.
"He knew enough English to get his point across, but his grammar was horrendous," Lowcock said. "It frustrates some students to have to take the classes, but in the long run it pays off in the corporate world because when their English sounds polished they do much better in the corporate world."
In time, Agafonov said he began dreaming and thinking in English. Living in his home country the past two-plus years has slowed his English skills, although his grammar is sharp. He tends to speak without using articles such as "the" and "a" and sometimes searches for a word. No longer training, he said his weight has dropped from 260 to 230 pounds. His mental muscles have been exercised in the corporate world.
After winning NCAA indoor national championships in 2007 and 2008 in the weight throw and finishing third at the 2008 NCAA outdoor meet in the hammer throw, Agafonov graduated from KU in 2009 and pursued a global marketing career.
He went to work for Dish Network, was assigned to a New Jersey office for three months to make the right connections and then assigned to Denver, where he worked for nine months, in charge of Russian marketing, until his work permit expired.
"I thought everything was OK,until the last moment," he said. "It happened the person in charge of the papers left the company and the new person came in and it took her time to find out what was going on. Huge corporation, so many people. My case was lost and by the time it was found, it was too late."
Returning to that job is not an option, he said, because the international marketing division in which he worked has been reduced from 15 employees to two. What Agafonov saw of different corners of the world during that job enhanced his desire to become an American.
"Dish Network is an American company, working properly, very open, not hiding anything," he said. "But in international market, they are competing with all these pirate companies from Africa or Asia. They take TV signal and distribute it through Internet and they're not paying any royalties. They're providing more channels and they steal our signals and our competitors' signals, combine them into their own package, and sell for much lower price."
Agafonov said he worked with an agency in London that specializes in stamping out fraud. "The funny part is I helped them to close two of these pirate companies, but the next week five new ones come to the market," he said.
After his work permit expired, he and his family returned to Russia.
"Moscow is one of the most expensive cities in the world," said Agafonov, who added that a marketing job similar to the one he worked in Denver might pay $2,000 a month in Russia.
He found work in Vladivostok, "as long a flight from Moscow as New York is," as a project coordinator of a construction crew made up of workers from several countries. He said the job paid well and he worked seven days and 70 hours a week. Upon completion of the project earlier this year, he returned to Moscow to look for work, even though his long-range goal is to land in Kansas. If he is admitted to school, hired as a graduate assistant by the athletic department's academic support staff and the Immigration service is satisfied he will earn enough money while getting his MBA, he could be back in Lawrence for the start of classes Jan. 18.
"I met many good people here and made a lot of friends," he said. "I really miss them. The other thing is people are really friendly here. They are friendly there (in Russia) too, but you feel you are in the Midwest here. Even if you go to New York area, it's interesting, but it's little bit different. Kansas is a great place, especially for a family."
Copyright 2018 The Lawrence Journal-World. All rights reserved. This material may not be published, broadcast, rewritten or redistributed. We strive to uphold our values for every story published.