Lawrence developer Thomas Fritzel has offered to make a $50,000 donation to historic preservation efforts as a way to resolve a dispute regarding a controversy involving the 1900s-era Varsity House.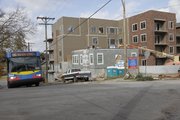 Fritzel delivered a letter to Lawrence city commissioners Tuesday evening offering to either "raise or guarantee pledges" of $50,000 to the Douglas County Community Foundation to further historic preservation in the community.
The donation offer comes after city commissioners last month said they believed Fritzel's efforts to move the old Varsity House to make way for a new apartment project at 1043 Indiana St. had fallen short.
Specifically, commissioners contended that Fritzel had not followed through on moving the original house but rather was rebuilding the old home using bits and pieces of salvaged material from the house.
In his letter, Fritzel said he didn't agree with that view but made the offer in an effort to "compromise and resolve our differences."
"Due to the extensive pre-existing deterioration of the substructure, which in turn created several challenges related to moving and relocating the original structure, the outcome is that the Varsity House was unable to be put back in its original form as anticipated at the time of land use approval," Fritzel wrote. "This outcome was not done with a desire to ignore the intent of the site requirements. To the contrary, it was the only way to ensure the structural integrity and longevity of the Varsity House, all at considerable additional expense."
Commissioners at their Tuesday evening meeting took no action on the offer, but agreed to add it to their agenda at next Tuesday's meeting.
"The letter indicates a willingness to work with us," Mayor Bob Schumm said. "It is a very positive step with this particular situation."
Dennis Brown, president of the Lawrence Preservation Alliance, said Tuesday evening he had not yet read the letter but was encouraged by what he had heard of the potential deal.
"The Varsity House will never come back," Brown said. "They are building a nice replica at the site. But if they make a donation that makes a donation that helps some other structure in jeopardy, that will be a point of justice."
City commissioners received the letter just prior to conducting a public hearing related to a proposed $25 million city recreation center that would be located at a proposed Kansas University sports complex just north of the northeast intersection of Sixth Street and the South Lawrence Trafficway.
A group led by Fritzel has been proposed to be the builder for the city and KU complex.
Copyright 2017 The Lawrence Journal-World. All rights reserved. This material may not be published, broadcast, rewritten or redistributed. We strive to uphold our values for every story published.