Free State High junior Keith Loneker sat at home this weekend when something occurred to him: he hadn't touched a basketball in about two months.
It wasn't procrastination that kept the Firebirds junior from getting reacquainted with roundball. The linebacker has been preoccupied with football season, which is very much alive at FSHS, even as winter sports practices began on Monday.
While Free State football players — preparing for Friday's Class 6A state semifinal against Shawnee Mission West — practiced outdoors and dealt with the cold and wind, basketball players got to work while wearing shorts in a warm gym. All things considered, Loneker preferred dealing with the elements.
"I mean, it's cold," he said, "but I want a state championship over a couple of days of basketball."
Loneker is one of a few FSHS football players who played significant minutes for Chuck Law's boys basketball team last season. Khadre Lane, a forward and wide receiver, is new to both teams this season. Basketball is the 6-foot-4 junior's primary sport, but he doesn't mind staying with football, considering the success the Firebirds (10-1) have enjoyed.
While Law would love to have his two-sport athletes available for the first few days of tryouts, Lane said the basketball coach knows this is part of the equation.
"We'll be there soon. He understands," Lane said. "He doesn't want us to lose."
This is the third time in Law's tenure that football season has overlapped into the start of basketball at FSHS. He called it a challenge.
"Obviously we're all excited about the football team and the run they're on and hopeful that they can win a state championship," Law said.
The difficulty comes with having two sets of tryouts — one for those players who came out Monday, and another for the football players when they are done. If the Firebirds win again and advance to the state title game, their first day of basketball would be Nov. 26. With the season tipping off on Dec. 4, Law said some non-football players might get more of a chance to play early on, which could help the Firebirds in the long run.
"You make the best of the situation," he said.
Other FSHS teams were without football players, too, Monday. The boys swimming team missed Jake Rogers, while the wrestling team's Tyler Sampson, Reid Buckingham and Stan and Sam Skwarlo still were in pads and helmets.
At Lawrence High, the basketball team's Drake Hofer and wrestlers Hunter Haralson, Alex Jones and Ryan Bellinger wished they could say the same. The Lions' Friday loss to SMW (10-1) ended the gridiron portion of their multi-sport years.
Haralson said the transition from the end of one season to the start of another didn't come easily.
"I'm gonna really miss football, but after that hard loss, it's time to go back to work for wrestling," the senior said. "A state championship is what it's all about this year."
FSHS girls basketball
The only thing Free State girls basketball coach Bryan Duncan had to worry about on the first day of tryouts was slowing things down for the underclassmen who were coming in new to the program.
"There's gonna be lots of mistakes and shooting won't be very good and things of that nature," Duncan said.
The first days of the preseason schedule are long for Duncan's Firebirds staff, because all the coaches evaluate players at two different sessions.
"We want to get it right and have all of our eyes on all of the kids and get things worked out," Duncan said.
When the three days of tryouts end and teams are set, Duncan said Free State's experienced and deep senior class — led by Kennedy Kirkpatrick — should be an exciting group to coach.
FSHS boys swimming
Annette McDonald spent Monday afternoon introducing the boys swimming team to the organization of practices. She wanted the Firebirds to get used to their routine, which included swimming in groups with lane leaders and everyone contributing feedback.
With it being the first day, she had to spend a lot of time on rules and expectations, too.
"Some kids that are new to the program were surprised. 'You practice six days a week? Are you kidding?' So that was kind of fun," McDonald related.
The coach had 32 athletes at the first day of practice, a new record in her time as coach.
FSHS wrestling
No one in the city began the winter sports season before Free State's wrestlers. Because FSHS wrestling coach Mike Gillman and assistant Brett Romme both serve on Bob Lisher's Free State football staff, the only time they could conduct practice was at 6 a.m.
Gillman said the wrestlers were a little groggy to start, but overcame it with their enthusiasm for the new season. The coaches covered some wrestling basics, but so many had wrestling experience that it made things pretty easy.
"I'm really excited about the young kids we've got coming in who are eager to get into wrestling," Gillman said.
LHS boys basketball
Coach Mike Lewis didn't want players tight or uncomfortable at the first day of Lawrence High boys basketball tryouts.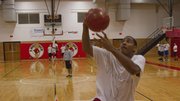 "We really stress when the guys come in to relax and create a real positive vibe in the gym," Lewis said. "If you get that accomplished in the first 30, 40 minutes, everybody can really play and show off some of their skills."
The Lions went through half-court and full-court drills as individuals and groups while the LHS coaching staff assessed.
"We're looking for kids who are coachable," Lewis said, "and who are focused in and able to take instruction and do something with it."
Absent from the first day of tryouts were two starters from last year's team — Bryce Montes de Oca and Shane Willoughby — both of whom decided to focus on baseball.
LHS girls basketball
The worst part about the first day of tryouts for LHS girls basketball coach Nick Wood was the idea of having to make cuts Wednesday night.
"It's hard to tell somebody, 'Sorry, we can't have you be a part of our program.' That always a hard thing to handle," Wood said.
Then again, the excitement of finding the pieces to get the program going in the right direction helps make up for it.
"At the same time, you're ready to get through tryouts and get going on what we really need to be doing to get ourselves ready for Emporia for our first game (Dec. 30, at LHS)," Wood said.
The Lions' first normal practice will come on Thursday, when a group of 50 players has been whittled down to 35 or so.
LHS boys swimming
After Kent McDonald had members of the boys swimming team check out lockers and go over expectations, such as when they will be practicing during school breaks, the Lions got into the water at their first day of practice.
McDonald said he had four lanes of experienced swimmers, and he figured it would be best to ease them into the rigors of swimming workouts.
"At first you just let them swim for a while and wear themselves out, and then we can start working on technique," the coach said.
According to McDonald, the Lions (even those who ran cross country in the fall) all looked tired when they got done.
LHS wrestling
With 44 students coming out for Lawrence wrestling tryouts, coach Pat Naughton's most handy tool on the first day was a color-coordinated list from LHS athletic secretary Emily Cates that made it clear who could participate and who had more paperwork due.
Even though the nuts and bolts of the first practice are far from titillating, Naughton said the past few days got him prepared. The Lions have a number of alums who already have began their college seasons. This past weekend, Naughton was watching Reece Wright-Conklin wrestle for Newman University at an event in Warrensburg, Mo.
"Then you start getting fired up for the whole deal," the coach said.
The wrestlers didn't need much motivation: "Everyone's just itching to get going," Naughton added.
Copyright 2018 The Lawrence Journal-World. All rights reserved. This material may not be published, broadcast, rewritten or redistributed. We strive to uphold our values for every story published.