No one was injured when a Union Pacific train derailed Monday night just north of the city limits of Grantville.
Photo Gallery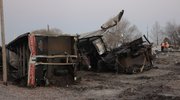 Train derailment near Grantville
Jefferson County Sheriff Jeff Herrig said officials received the call about the derailment about 9:35 p.m. Grantville is about 25 miles west of Lawrence, along U.S. Highway 24. It is a few miles east of North Topeka. The derailment occurred near the intersection of Front and Wilson streets, said Mark Davis, Union Pacific spokesman.
Twenty-nine coal cars of the 119-car train — transporting coal from Wyoming to Illinois — were involved in the accident.
One house was damaged when a piece of four-foot piece of rail went through the house, Davis said.
Herrig said it was very lucky there were no injuries from the derailment because the piece of the rail landed on the bottom bunk of a bunk bed, and a child was sleeping on the top bunk.
Both roads leading into the town were closed Monday night, and Herrig said he was unsure when the roads would reopen.
About 160 feet of the tracks will need to be replaced. One of the lines will be opened by 11 a.m., but when the second line will be opened hasn't been determined, Davis said.
The cause of the derailment has not been determined.
Almost a year ago, a freight train derailed near Grantville, spilling 32 cars off the rails. Twenty-two cars of a 142-car train hauling coal from Wyoming to Illinois went off the tracks first. A 122-car train bound from Kansas City, Kan., to Salina then hit the derailed cars. Ten empty cars of the westbound train then went off the tracks.
Copyright 2018 The Lawrence Journal-World. All rights reserved. This material may not be published, broadcast, rewritten or redistributed. We strive to uphold our values for every story published.