Related document

List of banned vanity plates ( .PDF )
Photo Gallery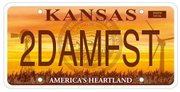 Banned vanity plates
The state of Kansas has banned nearly 1,800 word and letter combinations on vanity license plates. The Journal-World created a gallery of photo illustrations showing what some of the verboten plates might look like.
Vanity plates
The number of vanity plates in the area:
Douglas County: 3,829
Johnson County: 16,199
Lawrence: 3,003
Shawnee: 3,215
Baldwin City: 288
Basehor: 395
Bonner Springs: 473
Want to proclaim your individuality on your Kansas license plate? Be careful what you say, state officials warn.
Looking to pimp your ride with plates that say "BITEMEE," "KZMIAZ" or "AWSHIFT"? Forget it. Think you're "2HOT4U"? Too hot for Kansas vehicles. Does driving make you say "AAAAHH"? Other drivers will never know. Are you a hockey fan? "PUCKU" is out of bounds. Hoping to celebrate your birth year of 1969 on a plate? You're out of luck.
In all, nearly 1,800 combinations of words, numbers and phrases are banned from Kansas license plates, according to a list maintained by the State Department of Revenue and obtained by the Journal-World. Not surprisingly, the list is full of variations on sexual references, drug slang and ethnic or racial epithets — even if they're cleverly misspelled.
"That's a known list that if those come up, we don't let them go on the street," said Donna Shelite, the Department of Revenue's director of vehicles. "There are more combinations that may come across … that may cause some phone calls from the public."
It costs $46 to purchase a vanity plate for a Kansas-registered truck or automobile, and Shelite's department gets more than 61,000 applications annually for the custom plates. Most requests are innocent and easily approved.
But even some innocuous-sounding plate proposals are prohibited for various reasons, ranging from potentially mistaken identity to association with notorious crimes or brand names. The banned list includes words such as "THRILED," "UNKNOWN," "KBI," "BTK" and "VIAGRA."
Sometimes applicants try to pull a fast one. For instance, one applicant requested the plate MYA55, explaining that it was for a 1955-model vehicle.
"Clearly that was not the intent," Shelite said. "You get some people that think those combinations are fun to have on their vehicle."
As in most other states, Department of Revenue employees review vanity license plate applications, looking out for combinations that fall outside the legal guidelines for vanity plates. About 300 are rejected a year, adding to the prohibited plate list.
Drivers applying for personalized tags have the opportunity to explain why they are requesting a certain alphanumeric combination or phrase, if state officials question their application.
But sometimes, vanity plate requests slip by when they contain phrases with which the monitor is unfamiliar.
"There are some that have come across and been denied, and when I ask about them, it's actual slang," Shelite said. "On the street, it may mean something totally different than I deem it."
Occasionally, that means legitimate requests are denied. In one case, she said, an application that appeared to contain slang was flagged, when in fact the phrase was a family's surname. After an appeal, the plate was allowed to stand.
"Application folks have to keep up with slang," Shelite said. "It's going to continue to grow as people get more creative and put more things on a plate just to stand out."
Complaints from the public about distasteful license plates are rare. Shelite said she's received only two since she began her job in April 2011. But there is formal complaint process. Jeannine Koranda, public information officer for the Department of Revenue, said people should write down the seemingly offensive tag number and county and call the division of vehicles. If the plate is deemed offensive, local law enforcement officials are asked to get the plate off the streets.
Drivers whose plates are denied or taken away can apply for a new vanity plate or settle for a standard plate. But no doubt, Shelite said, the list of forbidden Kansas license plates will continue to grow as drivers try to express themselves on the road.
Copyright 2018 The Lawrence Journal-World. All rights reserved. This material may not be published, broadcast, rewritten or redistributed. We strive to uphold our values for every story published.