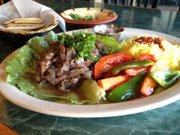 In Kansas, sumac is best known by most as a weed that grows in ditches and fields, with leaves that turn bright red in the fall.
In the Middle East, dried and ground berries of the sumac plant are used to make a citrusy, slightly earthy spice used for flavoring — and adding a pretty, purple-red color — in many dishes.
In this entree, tender marinated chicken is sauteed with onions and flavored with sumac, then heaped on a platter with grilled veggies and saffron rice.
Where to get it: Aladdin Cafe, 1021 Massachusetts St.
What you'll pay: $10.99 plus tax for the entree, which comes with your choice of Greek salad or lentil soup.
Try it with: Pita bread with hummus or baba ghanouj for an appetizer, kunafa (an Arab cheese pastry) or baklava for dessert.
Also on the menu: Shish kabobs of all kinds, from lamb to seafood; Middle Eastern appetizers such as Halum cheese and dolma (stuffed grape leaves); more than 10 vegetarian entrees and sandwiches; and hookah — which you can smoke in a lounge attached to the restaurant.
Restaurant website: aladdincafeoflawrence.com
Copyright 2018 The Lawrence Journal-World. All rights reserved. This material may not be published, broadcast, rewritten or redistributed. We strive to uphold our values for every story published.