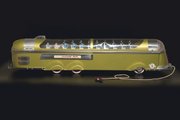 Wichita artist Randy Regier will discuss his sculpture "Impending Future Bus" during an upcoming event at the Spencer Museum of Art.
Regier and curator Kate Meyer will talk about the artwork and the complex and sensitive racial questions it raises at 5 p.m. Thursday at the museum, 1301 Mississippi St. The presentation is free and open to the public.
Kansas University selected "Future Bus" — on view in the museum's 20/21 Gallery — as this year's Common Work of Art, in conjunction with the school year's Common Book, "Notes from No Man's Land," a collection of essays on race by Eula Biss.
"Future Bus" is a model of a futuristic-looking, 1950s-style bus filled with rows of black riders and a single white rider sitting in the back of the bus.
A National Public Radio segment on the impending minority status of white Americans inspired Regier's work, according to a news release from the museum. The lone white rider also reflects a theme depicted in Ray Bradbury's "The Other Foot," a short story about Mars being colonized exclusively by black people who plan to segregate a group of white people rumored to be on their way from Earth.
The work reflects a connection to Kansas, as well. The artist states, "'Impending Future Bus' was made in Kansas, where the sky is always present or imminent. I thought of that when I made the bus's 'vista view' windows, reminiscent of the cross-country buses and trains of the referenced era."
Copyright 2018 The Lawrence Journal-World. All rights reserved. This material may not be published, broadcast, rewritten or redistributed. We strive to uphold our values for every story published.