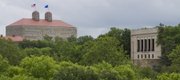 Subscribe to the email edition of Heard on the Hill and we'll deliver you the latest KU news and notes every weekday at noon.
Your daily dose of news, notes and links from around Kansas University.
• Last week I wrote about all the Veterans Day-related events going on at KU this week, but I thought I'd provide a few more details here about one of those events: a walking tour of the war memorials on campus that will take place tomorrow.
This is something that the KU Collegiate Veterans Association put together last year as well, KU CVA President Jake Robinson told me, but it's going to be a bit bigger and different this year.
It will not only provide some information and history about KU's war memorials, but it will have a bit of feeling to it, as well. It will begin at 3 p.m. Saturday at the Campanile, from the top of which "Taps" will be played. (Playing "Taps" will be KU Info director Curtis Marsh; he said he wasn't sure if anyone had ever played it from atop the Campanile before.)
The Arnold Air Society will conduct a wreath-laying ceremony at each of three monuments — the Campanile (a World War II monument), as well as the Korean and Vietnam war memorials, also located on Memorial Drive, memorializing KU veterans of each of those conflicts.
Also at each stop, an alumnus who has researched each of the memorials will provide a speech on its history.
• As I wrote earlier this week, faculty governance groups at KU are trying to get in front of the issue of post-tenure review, something that's likely coming to KU and other Kansas Board of Regents universities in the next few years.
In an effort to let the Regents and the KU administration know how faculty feel about the issue, those groups have formed a "Statement of Principles on Post-Tenure Review," which was set to be approved at Thursday's Faculty Senate meeting (I've not yet been able to confirm that it passed, but it's been approved by a host of other governance groups, so I'd say it was likely).
The statement is impressively brief, if you ask me, but I'll further condense its basic points here:
The faculty will cooperate with the administration to put a post-tenure review policy in place.
Post-tenure review should respect the institution of tenure and its importance to a university (and attracting and retaining faculty).
The reviews should recognize that faculty make contributions in a variety of ways and can follow different career paths.
The process should preserve collegiality (I heard a few faculty members worry that requiring a peer-review process could hurt relations among colleagues) and not make "onerous time demands." ("Onerous" — there's a word you hear a lot in academia, it seems.)
Reviews should consider that different academic units might have different expectations, and they should be conducted by peers.
• A quick chance to do some good and maybe win some stuff this weekend: The KU Finance Club is sponsoring a clothing drive at the Lawrence Goodwill, 2200 W. 31st St., from 9 a.m. to 9 p.m. on Saturday.
Anyone who donates clothes can enter to win a gift card to Goodwill or one of two pairs of KU basketball tickets. Anyone can participate.
• Assembling Heard on the Hill is never onerous for me, thanks to the helpful efforts of all you tipsters out there. Please keep it that way by sending those tips to merickson@ljworld.com.
Copyright 2018 The Lawrence Journal-World. All rights reserved. This material may not be published, broadcast, rewritten or redistributed. We strive to uphold our values for every story published.