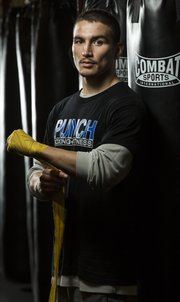 Lawrence resident and professional boxer Shawn Hawk said he never lets himself get out of shape, just in case a phone call comes from out of nowhere requesting his talents in exchange for a big paycheck.
Just such a call came late last week for Hawk, who was informed by his manager that he would be fighting for the World Boxing Organization light-heavyweight title belt Saturday night at the Staples Center in Los Angeles in a bout televised by Showtime Extreme (7 p.m. CST).
Known as a big puncher, Hawk, 28, has a 23-2-1 record with 17 knockouts. He will try to take the belt that belongs to Nathan Cleverly (24-0, 11 knockouts) of Wales. The Lawrence fighter has boxing's most controversial figure, flamboyant promoter Don King, to thank indirectly for his first big chance at fame that could lead to fortune. Hawk is standing in for Ryan Coyne, who backed out because of a contractual dispute with King.
A member of the Crow Creek Sioux Tribe of South Dakota, Hawk came to Lawrence a year ago on the advice of friend Marcus Oliveira (24-0-1 as a pro), a light-heavyweight and former Haskell Indian Nations University basketball player who lives in Mayetta.
Born in Sioux Falls, S.D., Hawk spent much of his youth in Lasalle-Peru, Ill., but his emotional roots remain planted in the Crow Creek Sioux reservation of South Dakota. That, he said, is what motivated him to enroll in classes at the Pinnacle Career Institute in Lawrence. He's studying to become a wind-turbine technician.
"My plan is to go back to my tribe, run for chairman, and get wind turbines to come to us," Hawk said. "I would like to get my people some per capitas. We are one of the poorest reservations in the country and I had to leave there to do something for my life."
First, Hawk wants to become a world champion. In his last fight, June 8 in Montreal, he lost a decision to North American Boxing Organization champion Eleider Alvarez. Hawk said he earned a career-high $17,500 for that one and said he expects to be paid $40,000 for challenging Cleverly.
"I've been training my (tail) off since my last fight," Hawk said.
Carlos Monteagudo of Punch is working with Hawk on his strength and conditioning, but not serving as his boxing trainer.
"I've been doing the boxing part myself since my last fight," Hawk said. "This is my profession. I'm constantly watching video, and I have my fiancée tape every training session. I like to see firsthand what I'm doing wrong and what I can change."
Hawk, who said he has been boxing since the age of 6 and doing so as a pro for 10 years, has been studying Cleverly's bouts on YouTube since learning of his title shot.
"He comes straight forward and throws a lot of punches, kind of how I fight," Hawk said. "I've been working on my defense a lot."
Hawk has the folks at Punch backing him and Cleverly has a slice of Hollywood in his corner. Oscar-nominated actor and boxing enthusiast Mickey Rourke reportedly has been palling around with the WBO champion this week and has assured him that he and Welsh singer Tom Jones will carry Cleverly's belt into the ring before the fight.
Cleverly, 25, shared his thoughts on his last-minute opponent with reporters at a recent media workout in Los Angeles.
"He's a colorful, come-forward type of fighter who can bang," Cleverly said. "I expect it to be tough. He'll be fighting me with nothing to lose. ... I'm definitely relieved that I finally have an opponent. Now, I can relax. The downside, if you want to call it that, is that I trained 10 weeks for a southpaw, but I'm just happy we have a fight."
Hawk underwent his final Lawrence workout Monday night with Monteagudo and left the next day for Los Angeles.
Monteagudo, 23 and a student at Kansas University, said he considered flying to LA for the bout, but didn't want to miss classes. He said he'll be watching on TV and is looking forward to the rest his hands will get. The oversized boxing mitts Monteagudo wears to protect himself against the punches of the challenger can't mask the progress he has made.
"He's gotten a lot stronger," Monteagudo said. "I feel it when we do mitts with him. My hands are hurting by the end of it. Half the time, I make him do defensive drills so he won't hit my hands anymore."
Instead of throwing his punches at mitts Saturday, Hawk will attempt to defeat a heavily favored champion who has had his hands raised at the end of each of his professional bouts.
Copyright 2018 The Lawrence Journal-World. All rights reserved. This material may not be published, broadcast, rewritten or redistributed. We strive to uphold our values for every story published.