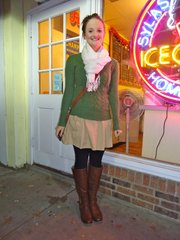 Age: 21
Relationship status: Single
Hometown: Olathe
Time in Lawrence: A year
Occupation: Student
Dream job: Magazine editor
What were you doing when scouted? Waiting for friends to get ice cream
Describe your style: Casual, trendy, a mix of preppy and college girl
Fashion trends you love: Riding boots, dresses, skirts
Fashion trends you hate: UGGs
Fashion influences: The '50s and '60s, structured clothing
What would you like to see more of in Lawrence? Classier style
Less of? Leggings
Tattoos or piercings? No
Who do people say you look like? I'm naturally blonde, so I've gotten Kate Hudson before.
Tell us a secret … I used to be obsessed with "I Love Lucy," and I wanted to be Lucille Ball.
Copyright 2018 The Lawrence Journal-World. All rights reserved. This material may not be published, broadcast, rewritten or redistributed. We strive to uphold our values for every story published.