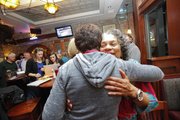 Democrat Carolyn Campbell coasted to a clear victory Tuesday night in a race to keep her seat on the Kansas State Board of Education.
That means, in all likelihood, the board will remain in the control of social moderates next year when it's scheduled to adopt new curriculum standards in science and social studies, subjects that often ignite heated political controversy.
Unofficial returns late Tuesday showed Campbell winning the 4th District race, 71 percent to 29 percent, over Republican challenger Jack Wu, a member of Fred Phelps' Westboro Baptist Church in Topeka.
That church is known for its strident anti-homosexual protests. Wu had run on a platform opposing the teaching of evolution in public school science classes.
"I heard someone say it could be a close race, but I never really felt like it would be a close race," Campbell said. "I just felt like once we got the message out about what he stood for, as opposed to my life and my credentials promoting public education, it wouldn't be."
Democrats and moderate Republicans had feared the Campbell-Wu race might be a wild card that could have gone either way. That's partly because State Board of Education races historically do not attract the same level of campaign activity or media attention as other races. Also, court-ordered redistricting this year changed the 4th District substantially, taking in portions of Pottawatomie and Jefferson counties, which tend to be more Republican.
"We worked very hard to make sure that people who traditionally go straight down the ballot wouldn't automatically (vote Republican)," Campbell said. "I had friends in Jefferson County that were Republicans that were working very hard to make sure people knew the difference between Mr. Wu and me."
Each district on the state board consists of exactly four state Senate districts. Because there are 40 senate districts, there are 10 state board districts. Board members serve four year terms, with half of the seats coming up for election every two years.
Currently, social moderates hold a 7-to-3 advantage on the board, depending on the issue at hand, and it appeared Tuesday night they would retain that lead.
In the 6th District of central Kansas, Republican Deena Horst, a former state legislator, beat Democratic challenger Carol Viar. Horst, a moderate, will replace Kathy Martin, a conservative who did not run for another term.
But in the 2nd District of Johnson County, conservative Republican Steve Roberts edged out Democrat Cindy Neighbor, 53 percent to 47 percent, according to unofficial results. Roberts will succeed Democrat Sue Storm, who could not run for re-election because redistricting shifted her out of the district.
Roberts has said he does not support teaching creationism or intelligent design in science classes. But he does support relaxing teacher licensing requirements to make it easier for "second career teachers" to transition from the private sector into teaching.
In the 8th District, incumbent Walt Chappell, a Wichita Republican who was often hard to classify on the political spectrum, lost in the GOP primary to Kathy Busch, a former Wichita school administrator. Busch did not face opposition in the general election.
And in the 10th District, board Chairman David Dennis, also a Wichita Republican, did not run for re-election. He will be succeeded by fellow Republican Jim McNiece, a former educator who has worked as a principal in public, parochial and charter schools. McNiece had no opponent in the general election.
Copyright 2018 The Lawrence Journal-World. All rights reserved. This material may not be published, broadcast, rewritten or redistributed. We strive to uphold our values for every story published.