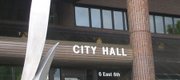 Subscribe to the email edition of Town Talk and we'll deliver you the latest city news and notes every weekday at noon.
News and notes from around town:
• Here is an Election Day challenge for you: Go eat two pounds of pasta and see if you can stay awake until the final returns are counted.
Lawrence diners who are looking to stuff their stomachs after they stuff the ballot box, are scheduled to have a new option today. Jim Vaughn, a longtime Italian chef from St. Louis, told me he is planning to open his Intorno Italian restaurant, 801 Massachusetts St., for lunch and dinner today.
As we reported late last month, Intorno is going into the spot where Esquina previously was located. Work began only at the beginning of the month to convert the restaurant, so while politicians of both stripes have been talking about creating change for months, the Intorno folks seemed to pull it off in a few days.
We'll see if Intorno creates a change in how area diners define an Italian restaurant. Vaughn describes his restaurant as a "classic Italian restaurant," with lots of "comfort food." But every area seems to have its own take on Italian food, and Vaughn is bringing an Italian menu that I guess is rooted in some St. Louis traditions.
Vaughn worked for 30 years for famed St. Louis chef Charlie Gitto, who owns a host of Italian restaurants in the city. For nearly five years, Vaughn was the executive chef at Gitto's restaurant in The Hill district, which is St. Louis' top Italian neighborhood.
So, what defines St. Louis Italian? Heck if I know. I'm not a Missourian, as the lack of a shirtless banjo player on my porch proves. (Note to the Intorno folks: Take no offense. Jokes about Missourians are required in Lawrence.) But the menu does seem to have quite a bit more seafood on it than you might normally expect at area Italian restaurants. By my count, there are at least 10 fish or seafood dishes on the menu, including Marlyland-style crab cakes, seafood risotto, calamari-style squid, and the classic dish of linguini and clams.
The menu also includes a couple of steak dishes, and wood-fired entrees such as a grilled pizza or shrimp scampi. Of course, there are also the traditional Italian favorites like chicken parmigiana and lasagna.
It looks like entrees on the dinner menu (I haven't seen a lunch menu) range in price from about $12.95 to $24 for an Italian-style tenderloin. Pasta dishes go as high as $15.95 to $9.95 for spaghetti bolognese.
That might be a good choice if you take me up on my two-pounds of pasta challenge. On second thought, that dish sounds an awful lot like baloney (at least with the way I pronounce Italian words). You may want to avoid that. With election night pundits in full volume this evening, we won't need any extra baloney.

• A sad but interesting tale of how tough the Lawrence restaurant business can be recently was published in the Kansas City Star. The arson trial involving the 2008 fire at the Kansas City, Mo., Hereford House steak restaurant involved quite a bit of testimony regarding the Hereford House's foray into Lawrence.
The once iconic steak house's stay in Lawrence was relatively short — it lasted from 2000 to 2006 — but it ended up playing a pivotal role in a sad story that led to three men being convicted on various charges related to the 2008 Hereford House fire in Kansas City.
In short, testimony at the trial that concluded last week declared the Lawrence Hereford House at Sixth and Wakarusa a money pit that led to extreme financial stress for the entire Hereford House company and its leader, Rodney J. Anderson.
Testimony from the trial revealed business partners in 2003 and 2006 infused $2 million into the company to try to make up for the poor business in Lawrence. By 2006 it was clear that wasn't even going to be enough. The Hereford House closed that year. The company tried a different concept called H&H; Bar & Grill, but that lasted for less than a year.
Probably the most revealing fact from the trial is just how high a price Lawrence commercial real estate was commanding out at Sixth and Wakarusa in the booming late 1990s and early 2000s. The Hereford House was paying $14,000 per month for the sprawling restaurant space. That monthly lease obligation continued to accrue even after the restaurant closed.
You can read the entire article from The Star here.
• Get ready to say good-bye to those old trash cans. As crews begin to wrap up their distribution of the new city-mandated trash carts, residents soon will have their first opportunity to recycle their old trash cans.
City crews will come to your curb on Friday morning to pick up any trash cans that you no longer want to keep. The city asks that all trash cans be set out by 6 a.m. and that they be empty of trash. Residents should mark an "X" on the can to make it clear that it is to be taken by crews.
Plastic trash cans will be recycled by Rehrig Pacific, a cart manufacturer that will use the plastic to make new trash carts. Metal trash cans will be recycled for scrap metal.
City officials, however, are reminding residents they can keep their trash cans, if they so choose. Residents can use trash cans to set out yard waste materials. Residents, though, must use their city-issued, wheeled trash cart for their standard refuse.
The city will host one other trash can recycling day. It is set for Friday, Nov. 16.
Copyright 2018 The Lawrence Journal-World. All rights reserved. This material may not be published, broadcast, rewritten or redistributed. We strive to uphold our values for every story published.