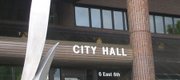 Subscribe to the email edition of Town Talk and we'll deliver you the latest city news and notes every weekday at noon.
News and notes from around town:
• Even though I have long resisted it at my house, sometimes keeping up with the Joneses is a good thing. (Note to my neighbors: Nothing in this article constitutes a promise by me to get rid of my crab grass next summer. It is not a weed. It is an environmentally sustainable plant. I'm not a cheapskate. I'm a model of sustainability.)
The folks at the locally owned Cottin's Hardware, 1832 Massachusetts, know all about the need to keep up with the Joneses. They are just a stone's throw away from the fancy new Dillons store that opened on Massachusetts Street, they're next to the relatively new building that houses On the Rocks liquor store, and plans are still pending on building a new Kwik Shop just south of Cottin's store.
So Cottin's has decided to get in on the act and undertake a complete interior remodel of the store.
"We figured that with everybody else redecorating in the neighborhood, we had better step it up and get into the 21st Century," said Linda Cottin, an owner of the store.
The remodeling is underway now and is expected to last into February, although the store will remain open throughout the project.
When it is completed, the project is expected to give Cottin's a larger inventory of goods.
"Hopefully it will be better arranged, and it will create more cohesive departments," Cottin said. "It will be more comfortable for the shoppers."
Cottin said a big part of the remodeling will add more items related to home remodeling. That means things such as a bigger selection of door knobs, cabinet pulls, faucets and other items that I'm sure my wife has mentioned and I have ignored.
Most of the remodel — which will include all new energy efficient lighting — will be confined to the interior, but Cottin said the project also will include new signs for the outside of the building.
The remodeling project comes as the Cottins are celebrating owning the store for 20 years. Cottin said the traditional hardware store has held up well in the age of big-box home improvement centers.
"Our business is strong," Cottin said. "Our customer base is very dedicated and we draw very well from this neighborhood. Now we're hoping to attract people from an even wider area."
• Speaking of attracting, perhaps you have heard that Lawrence and Douglas County is hoping to attract more retirees to the area.
The city and the county are getting close to putting a system in place to attract well-to-do retirees. At their meeting on Tuesday, Lawrence city commissioners are set to approve an agreement that will require the city to start paying a portion of the salary of the executive director of Douglas County Senior Services.
At one point, the city and county had received a recommendation from the Retiree Attraction Task Force that called for a new government employee to be hired to oversee a retirement "portal," which I guess means a Web site, phone lines and other information that would constitute a one-stop shop for retirees interested in information about Lawrence and Douglas County.
Instead of hiring a new position, however, the current thinking is to have the director of Douglas County Senior Services take over those responsibilities.
But the new responsibilities likely will require an increase in the position's salary. The agreement up for approval on Tuesday spells out that the city and the county equally will split any salary increase that is determined to be appropriate for the position. My understanding is the position currently pays about $55,000, and there is some talk that another $15,000 to $25,000 may need to be added onto the position. The position currently is being filled on an interim basis by former Lawrence City Manager Mike Wildgen, while the Senior Services board looks for a replacement.
In addition, the agreement calls for the city and the county to equally split any costs related to a future marketing plan to attract retirees to the community. City and county officials currently are in negotiations with a marketing firm to create a marketing strategy to attract retirees. I don't have an estimate on how much that may cost, but I would assume the services of the firm will cost a few thousand dollars and then the purchasing of advertising and marketing materials could cost more than that.
Bottomline, the city and the county — through a somewhat open-ended agreement — are going to spend some money on retirees. The task force that studied this issue said attracting retirees would have a positive economic payback to the community. The trick, though, will be attracting retirees with some financial means and still in the early stages of retirement. Much of the expected economic benefit is projected to come from retirees who have significant amounts of disposable income that they will spend on everything from real estate to entertainment to health care.
City commissioners meet at the special time of 5 p.m. on Tuesday, due to the elections.
• Some of you perhaps have thought I retired from posting weekly real estate sales. Well, I haven't, but I have gotten mighty behind. So, I'll correct that now and promise to do better in the future. Click here to see three weeks worth of land transfers as recorded by the Douglas County Register of Deeds.
A few sales of note include:
— It appears the deal for the Bert Nash Community Mental Health Center to purchase the VFW's post and surrounding property at 138 Alabama St. has been finalized. As previously reported, Bert Nash has said it wanted to purchase the property — which includes a large pond and natural area — to give it more strategic options for the future.
At one time, the idea involved Bert Nash using the 13-acre piece of property for an outdoor wellness center. I'm not sure how much of that idea is still on the drawing board though. The city's recreation center/youth fieldhouse at the proposed Rock Chalk Park in northwest Lawrence also has plans for a wellness center, and it has a significant amount of outdoor space for activities. As we have reported, the VFW post is constructing a new building near 27th and Haskell.
— The reports also indicate that the property that houses Myers Retail Liquor at 902 W. 23rd Street has sold. James and Diana Myers sold the property to Big Time Properties LLC, which is led by Lawrence businessman Christian Walter, who I believe is the former owner of Glass House Liquor.
— A group led by Lawrence businessman Mark Bastemeyer, who I believe is in the business of refurbishing bowling lanes, has bought an industrial building at 1200 E. 25th Street, which is a bit south of the 23rd and Ponderosa area.
— A group led by officers with EuroTech Vertical Flight Solution has bought vacant property in Eudora's InTech Business Park. EuroTech, which refurbishes helicopter parts, occupies the building adjacent to the vacant land. No word yet on whether the helicopter company plans an expansion or simply is buying the property — which has good visibility along Kansas Highway 10 — for investment purposes.
Copyright 2017 The Lawrence Journal-World. All rights reserved. This material may not be published, broadcast, rewritten or redistributed. We strive to uphold our values for every story published.