The search for unmarked graves at the corner of Ninth and New Hampshire streets turned up a host of bones Monday morning, but they're not the type of bones that shed any light on whether victims of Quantrill's Raid are buried at the site.
They're more like the type that might provide clues of what was for dinner years ago.
They were cow and pig bones.
A crew with the state archeologist's office spent nearly seven hours Monday excavating a 50-foot by 50-foot area on the southeast corner of the intersection, seeking either to prove or dispel speculation that victims of Quantrill's Raid were buried on the site that has been approved to house a multistory hotel.
After a day's worth of work, State Archeologist Bob Hoard was ready to declare the case closed.
"I'm certain there are not burials here, but it is possible to be wrong about anything," Hoard said.
The test excavations come just weeks ahead of construction work that is scheduled to start for a multistory hotel project planned by Lawrence businessmen Doug Compton and Mike Treanor.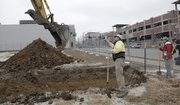 Hoard asked to do the test excavations based on a 1903 Kansas University master's thesis that contends victims of Quantrill's Raid were buried in an open trench that existed on the site at the time of the raid.
Historical documents show that Lawrence's St. Luke AME Church had bought the lot just 10 days before Quantrill's raid. The master's thesis contends there was an open trench on the site because construction of a new church recently had begun.
But Hoard said Monday's dig produced no evidence that a trench ever had been dug on the site. A large backhoe dug a series of rows — 6 feet to 8 feet deep — across the 50-foot by 50-foot site. Hoard or his assistant watched every scoop of dirt turned. Hoard was prepared to begin hand excavations if there was any sign — such as a change in the color or consistency of the soil — that indicated the soil previously had been disturbed.
No such signs ever emerged. The crew did find two cisterns and the outline of a small house or storage shed. As for the cow and pig bones, Hoard said that wasn't too unexpected. He said there is evidence of a boarding house being located near the corner, and it is likely a cook for the house occasionally would have butchered livestock on the site.
"They probably would throw some of the remains into the yard or an empty lot," Hoard said. "It probably is just what they would think of as kitchen debris."
Katherine "K.H." Harris, a neighbor who lobbied for the archeological investigation, was on the site when Hoard declared it to be free from graves. Harris said she was satisfied Hoard had done a thorough examination.
"I'm disappointed, though," Harris said. "I wanted something to be here because it would have been a fantastic piece of our history."
Hoard said the development group will pay for the bulk of the costs related to the archeological testing. The developers will pay for the cost of the backhoe and operator, while Hoard and his assistant's time will be covered by the normal state salary. Hoard didn't yet have an estimate for how much the test excavation had cost.
If remains had been found, the hotel project would have been allowed to continue construction once a state-appointed review board determined how best to remove or preserve the graves.
Hoard asked for the excavations despite there being no evidence of graves on the site other than the 1903 master's thesis, whose author didn't provide details about how she determined graves were on the site.
"I came into this with an open mind," Hoard said. "There was enough evidence to support that it was a possibility."
Construction on the hotel project will include an underground parking garage that will require the entire corner to be excavated. Hoard said if remains are found during construction, the construction crews will be responsible for notifying local law enforcement.
Construction work is expected to begin next month on the hotel. =
Copyright 2018 The Lawrence Journal-World. All rights reserved. This material may not be published, broadcast, rewritten or redistributed. We strive to uphold our values for every story published.