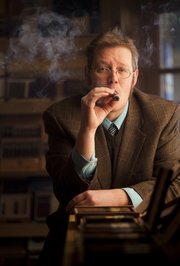 Bryan Newbury lives and breathes cigars. It's his job.
Newbury works as a tobacconist at Centro Cigars, 4811 Bob Billings Parkway. He buys cigars, sells cigars and manages the store's smoking lounge.
"I have a little rule that I can't work anywhere where I can't smoke, and that kind of limits you in 2012," he said.
Newbury's job has two sides: business and social.
On the business side, Newbury has to be a cigar expert and know the perfect stogie for any occasion. Much of his job involves researching and surfing cigar blogs to keep the store's $30,000 to $40,000 cigar inventory up to date with current trends. Newbury added that he can't properly recommend a cigar if he hasn't smoked it.
"The main part of my job is smoking everything we have and describing it," he said laughing. "Research."
To keep the place stocked — the store sells 200 to 300 "sticks" on a good day — Newbury deals with numerous cigar manufacturers, many family-operated and located in south Florida. It's better that way, he explained, because a family takes pride in their product. However, this way of business requires tact.
"Some of these guys are just eccentric," he said. "You have guys that would have been rock stars had it worked out."
When not dealing with eccentric sellers, Newbury has to deal with the difficulties of the cigars themselves. He must manage the store's humidifiers to keep the stock at a perfect humidity. If the air's too dry, the cigars make for a harsh, fast smoke or come apart.
"You have to baby them," he said. "They are like eggs. Perhaps worse."
If he does the business side of his job right, Newbury has happy customers. This leads to the part of the job Newbury really likes: being social.
He spends much of the day as a host, or a billiards and dominoes partner to store customers.
"The fact that I do any work at all is probably the biggest surprise to most," he said. "I ascribe to the English Olympic standard of effortless excellence. The idea is that I'm continually partying or in a free and easy mood."
Newbury may be easygoing and quick with a joke, but he takes cigars seriously. He explained how cigars are art and those who craft them, masters. And as with most artisanal products, he said cigars have a pretty niche customer base.
"I don't know the percentage of the population that are cigar smokers, but it's a very small percentage, and you have to keep them happy," Newbury said. "I try to keep my eyes open for the profile of each specific customer."
It's easy to see why customers keep coming back. The lounge boasts leather chairs, a billiards table, fine wooden cabinets and space for the customers to smoke while working or relaxing. It seems like a place English nobles would come after hunting foxes.
Looking the part in this environment is Newbury, sporting prominent mutton chops, a tweed smoking jacket and, of course, a cigar. He jokes with smokers as he tours the lounge. He stops the interview to recommend a cigar to a customer who can't make up his mind.
After a while, it becomes clear the people inhabiting Newbury's smoke-filled world are more than just customers. Newbury described the atmosphere, in what he called hyperbolic terms, as "The Brotherhood of the Leaf."
"Everybody has a common passion or hobby or interest," he said. "That makes for good fellowship. Everyone is coming with at least one common agenda no matter what their political, religious or personal differences may be outside of here."
Newbury's journey to this brotherhood began after a brief stint as a "failed poet."
"That's why retail is a great vocation," he said. "It's what you do when you decided at the age of 20 that poetry was a viable way of making any money at all."
He moved up from selling cigarettes to selling pipe tobacco at an "informal apprenticeship" in Kansas City, Mo., to his current job. Newbury said he enjoys his job in what has become an increasingly competitive field.
And with a job where he gets to practice his passion as well as smoke, Newbury doesn't plan on leaving any time soon: "They'll have to drag me out of here kicking and screaming."
Copyright 2018 The Lawrence Journal-World. All rights reserved. This material may not be published, broadcast, rewritten or redistributed. We strive to uphold our values for every story published.