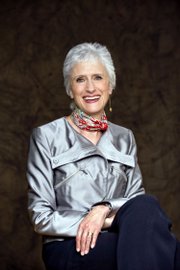 After Hours with Sara Paretsky
Best-selling author and Lawrence native Sara Paretsky will be the guest of honor this week at a Lawrence Public Library Foundation event.
The event, to honor Paretsky with the Community Enrichment Award and raise money for the library, will feature an onstage interview with the author, preceded by a social hour with desserts and an auction of wine and gift baskets.
The evening begins at 7 p.m. Friday at Liberty Hall, 644 Massachusetts St. Tickets are $35 in advance or $40 at the door. Table sponsorships are available. To purchase tickets, go online to lawrencepubliclibraryfoundation.org. For more information, call the foundation at 843-3833, ext. 131.
Through the years, more than one angry reader has written Sara Paretsky to say they don't like her weaving political and social issues into her V.I. Warshawski novels. Isn't she supposed to be entertaining them?
Paretsky disagrees that the two are mutually exclusive.
After all, Warshawski — the female private investigator who's been solving her way through Paretsky's mysteries since 1982 — is now 50, aging somewhat slower than Paretsky herself, 65. Paretsky doesn't write novels to prove a political point, but she's inspired by issues that trouble her personally, and using them helps keep Warshawski up to date.
"I think that is the biggest challenge for someone who is writing a series is to make it both coherent and fresh at the same time," Paretsky said.
The best-selling author, a graduate of Lawrence High School and Kansas University who makes her home in Chicago, will be in Lawrence this week to accept the Lawrence Public Library Foundation's Community Enrichment Award, to be presented Friday during a public event at Liberty Hall.
Foundation Executive Director Kathleen Morgan said the award was designed to honor a current or former Lawrence resident whose work has made a difference, and Paretsky's certainly qualifies.
"She's a true trailblazer in the mystery writing world," Morgan said. "Before you had all these hard-nosed female detectives, she introduced V.I. Warshawski and took the mystery writing world by storm."
Paretsky's 15th Warshawski novel, "Breakdown," came out in January.
Publisher's Weekly describes the plot:
The book begins with Warshawski going in search of search of several well-connected 12- and 13-year-old girls who are out after curfew. She finds them in a cemetery, steps away from a freshly deceased man. Media attention on two of the girls — the daughter of Sophy Durango, a U.S. Senate candidate, and the granddaughter of Chaim Salanter, a wealthy Jewish businessman linked to Durango's campaign — intensifies an already mudslinging political race, particularly when it's revealed that the girls were trying to perform a "vampire" ritual from their favorite supernatural novel.
Paretsky said her go-to fictitious media conglomerate — and a nonfictitious social problem — serves as a jumping off point for the story.
"One of the things that really is on my mind just as a citizen is the 24-hour news cycle and the way in which it sort of eats people up, the way in which stories can be put out that are totally false but that nobody is out there fact-checking," Paretsky said. "We're so awash in information that may or may not be accurate, but people are making decisions based on it."
Paretsky said she'd seen modern reviews of Charles Dickens that criticize how he incorporated politics of the day into his novels. Novels written with the sole purpose of proving a point are boring, and Paretsky said she hopes hers don't "fall into that trap." But she thinks Dickens was onto something with his backdrops that didn't always paint a rosy picture of society.
"You come away both with a really great story and more awareness of what was going on in the world he was living in," she said.
Paretsky has been busy — almost too busy, she said — with appearances this fall while working on her next book. While some writers can work on the road, Paretsky said it's not for her.
"I just have to be in a place where I can get centered," she said.
Paretsky said yes to the Lawrence appearance, noting she's proud of her connection to the city, which has voted to expand its library despite the economic downturn and where her mother was a longtime children's librarian. She said she hopes her visit will help the library's cause.
"The library, libraries in general, are hugely important in my life and any writers' lives," Paretsky said. "A lot of people in this era think that you should not spend money on the common good, that it's sort of every person for themselves. ... Lawrence has really stepped up and made a commitment to the book, to accessibility."
Paretsky's next book — she's under contract to write another in the V.I. Warshawski series — is due out around September of next year.
She's currently trying to meld a vision with a story line, and facing the same challenges any writer would.
"I've wanted for a long time to write a novel set in the world of physics in the 1930s," she said, explaining that she hopes to create a plot with a backstory set in Vienna, but that researching physics is no easy task. "Whether I will ever actually get these two sections together, I'm beginning to wonder."
While Friday's event won't include any sneak- peeks of the unfinished novel, Paretsky said she planned to talk passionately about what "the word made visible" means for her own life and for the world.
Paretsky — who recalled once asking a bookstore employee to interrupt a reading with score updates while the Kansas University football team played in a bowl game — is also planning to catch a KU women's basketball game during her visit.
"I really am a Jayhawk," she said.
Copyright 2018 The Lawrence Journal-World. All rights reserved. This material may not be published, broadcast, rewritten or redistributed. We strive to uphold our values for every story published.