Photo Gallery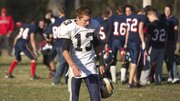 Veritas Football vs. St. Mary's Academy in the KCAA Class 2A State Championship Game
St. Marys — Usually a strength for Veritas Christian School's football program, rushing turned into a genuine problem for the Eagles on Saturday afternoon in the Kansas Christian Athletic Association state championship game at St. Mary's Academy.
Veritas runs ended in negative yardage 17 times — usually at the hands of SMA junior linebacker Timothy Fullerton — and St. Mary's beat Veritas, 48-20, to win its second straight KCAA championship.
Junior Veritas quarterback Elijah Harvey took the brunt of the beating, getting sacked or hit in the backfield on a regular basis. By the end of a long afternoon against a team it has faced in the KCAA title game three straight seasons, Veritas (8-3) had negative-60 rushing yards on 31 carries.
"We did a terrible job blocking," said Eagles senior lineman Bryce Boland. "If we had blocked, that game probably would have been different."
Fullerton set the tone by spending most of the game in the Veritas backfield. Eagles coach Doug Bennett said by the time the coaching staff devised a better way to account for the linebacker, the damage had been done.
"We've been able to run all season long," Bennett said. "But we were forced into doing something that's probably not our strength."
Though the Crusaders (9-0) constantly had Harvey under fire, the Eagles QB went 15-for-21 through the air with two touchdowns and an interception. But after Veritas survived in the first half with touchdown receptions by senior Andrew Harvey, freshman Chad Stieben and freshman Mark Weinhold (on a pass from Caleb Holland), St. Mary's shut out the Eagles in the third and fourth quarters.
The Crusaders scored 18 unanswered points in the second half, all on passes from senior quarterback Brian Rebegila (10-for-22-passing, 217 yards, five touchdowns and an interception). His 56-yard TD toss to Joseph Skees with 33 seconds left in the third gave St. Mary's a 36-20 lead and proved to be a tipping point, because the Crusaders' previous two possessions had ended with takeaways — an interception and a fumble recovery — by Stieben.
Veritas went three-and-out on its next possession. Then Rebegila led St. Mary's on another TD drive to take control with a 42-20 lead and just 6:54 remaining.
Boland said the Eagles, who won the 2010 KCAA state title and had a 19-game winning streak snapped by St. Mary's in the 2011 championship game, take losses badly. The difference for Boland and Andrew Harvey was that they won't get a chance to snap back from this setback, their prep finale.
"We all played our hearts out," Boland said. "I guarantee nobody's gonna lay down on their bed tonight and regret anything that they did. They went all out."
Copyright 2018 The Lawrence Journal-World. All rights reserved. This material may not be published, broadcast, rewritten or redistributed. We strive to uphold our values for every story published.