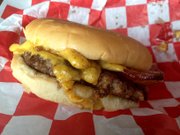 Most places' bacon burgers are so named because they have bacon on top. This one not only has a couple slices of smoky, savory, thick-cut bacon on top, but the patty also has ground-up bacon in it — a 50/50 ratio of bacon to beef. Add grilled onions, American cheese and special sauce and you have one hot, melty and really bacony burger.
Where to get it: Burgers by Bigg's, 4801 Bauer Farm Drive. (It's also on the menu at Bigg's Barbecue, 2429 Iowa St.)
What you'll pay: $5.29 for a single, $6.29 for a double, plus tax. Fries are extra.
Try it with: Definitely not extra bacon. Maybe a side salad instead.
Also on the menu: About 10 burgers — the Farmer Burger (topped with fried egg, cheese, bacon and ham) and the Western Burger (with onion rings, bacon, cheese and barbecue sauce) are among the most stacked — grilled cheese sandwiches, sweet potato fries and milkshakes. You can substitute chicken for beef on any burger and get a gluten-free bun.
Copyright 2018 The Lawrence Journal-World. All rights reserved. This material may not be published, broadcast, rewritten or redistributed. We strive to uphold our values for every story published.